Preform Cooling System optimizes PET bottle production.
Press Release Summary: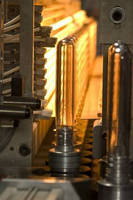 Designed for manufacturers of PET containers, preform cooling system utilizes increased air flow in oven to minimize surface temperature of perform, resulting in minimal temperature differential and stress throughout perform. System also aids production of colored bottles. It includes IR short-wave emitters and plenum in which air flow through plenum slots cools each perform directly. Integrated filtered air supply minimizes power consumption.
---
Original Press Release:

W. Amsler's New Preform Cooling System Delivers Major Productivity Improvements for Bottle Production



Canadian Blow Molder Uses System to Boost Output for PET Liquor Containers by 13.3%

RICHMOND HILL, Ontario - W. Amsler Equipment Inc., a leading Canadian manufacturer of all-electric, reheat stretch-blow molding machines based in Richmond Hill, Ont., has developed a unique preform cooling system which delivers major productivity improvements for manufacturers of PET containers. A leading Canadian blow molder has bought the first system and has achieved significantly higher output for production of thick-walled PET liquor containers.

Amsler's new preform cooling system uses increased air flow in the oven to reduce the surface temperature of the preform. This results in minimal temperature differential throughout the preform, thus inducing less stress and creating faster molding cycles. "These higher production speeds are achieved with no loss in container quality," added President Werner Amsler. In addition, the increase in air flow improves production of colored bottles, reducing the chance of burning the colored preforms.

The system uses the same heating element (infrared short-wave emitters) but replaces the standard reflectors with a plenum (chamber). The air flow through the plenum slots cools each preform directly and more precisely. Instead of compressed air, Amsler relies on its standard integrated filtered air supply at no additional cost in power consumption.

Westbridge Inc., a Calgary, Alberta-based blow molder of PET containers for carbonated soft drinks, water, and liquor, installed the new preform cooling system on their Amsler two-cavity reheat stretch-blow machine and realized a 13.3% improvement in productivity for its thick-walled (0.210-in) 1.75-L PET liquor bottles, according to Harry Logan, Westbridge's director of operations. The processor shaved a second off its cycle time, producing 1107 bottles/hr compared to the previous 960 bottles/hr.

"We were able to heat the preforms at a higher temperature while still keeping the outer surface cool," said Logan. "By the time the preforms reached the blowing station they maintained a uniform heat profile throughout the preform's wall thickness, resulting in a significantly reduced cycle time."

Westbridge was able to install the conversion kit in less than four hours with minimal downtime. The company estimated a highly favorable investment return with a payback of less than four months. Amsler offers the preform cooling system as a retrofit on its full range of all-electric reheat stretch-blow machines.

About W. Amsler Equipment Inc.

W. Amsler Equipment Inc. is a privately-held Canadian company founded in 1994 by Werner Amsler. The company manufactures state-of-the-art, highly-efficient reheat stretch-blow molding machines and auxiliary equipment for manufacturers of plastic containers for the carbonated soft drink, water, and food industries. The product line includes linear machines with output up to10,000 bottles/hr and rotary equipment for up to 24,000 bottles/hr. The company was one of the first to develop all-electric machines which provide users with highly-repeatable processing, energy savings up to 50% vs. hydraulics, and a 75% reduction in maintenance costs.

W. Amsler also supplies auxiliary equipment for complete blow molding plants, water treatment, and filling lines. These products include semi- and fully-automatic palletizers, bottle-inspection units, air compressors, process chillers, mold temperature-control units, blow-dome spin-off trimmers, gaylord dumpers, vacuum conveyors, slip sheet cleaners, and blow molds. The company has also partnered with companies to provide turnkey liquid filling equipment. More details are available at www.amslerequipment.net.


More from Materials