Predryer handles woven fabrics before they enter tenter.
Press Release Summary: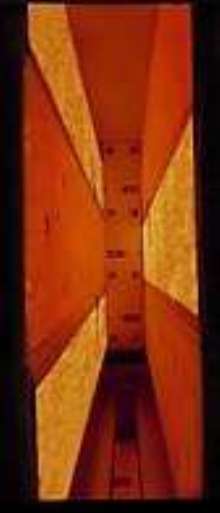 Gas Infrared Predryer, measuring 11 x 7 x 4 ft, predries dyed woven fabrics from 52-65 in. wide before they enter main tenter range. Ten Radplane(TM) gas infrared heaters, rated at 332,904 BTU/hr each, are mounted on 2 vertical structural steel frames to form 2-pass gas infrared oven. Insulated, adjustable reflectors at predryer's entrance and exit minimize ambient air infiltration. Electrical and control components are housed in a freestanding NEMA 12 enclosure.
---
Original Press Release:

Glenro Gas Infrared Predryer Upgrades Fabric Processing Line. . . Faster Line Speed With High Energy Efficiency


PATERSON, N.J.--Dec. 2, 2003--Glenro has designed and manufactured a gas infrared predryer for a textile finishing line. The system measures 11 feet high in machine direction, 7 feet wide across machine direction, and 4 feet deep. The gas infrared predryer predries dyed woven fabrics 52 to 65 inches wide before they enter the main tenter range. This increases the line speed to 70 yards/minute without any sacrifices in product quality.

Ten Glenro Radplane(TM) rapid-response, gas infrared heaters, rated at 332,904 BTU/hr each, are mounted on two vertical structural steel frames (five infrared heaters per frame) to form a two-pass gas infrared oven with a small footprint that removes a large portion of the moisture in the fabric before final drying in the tenter range. Insulated, adjustable reflectors at the predryer's entrance and exit ends minimize ambient air infiltration improving energy efficiency. Insulated, double-wall doors on one side of the gas infrared oven contain the heat in the processing area and allow easy access to the oven interior for maintenance. The infrared predryer includes exhaust hoods at the top of each vertical infrared oven section.

Electrical and control components are housed in a freestanding NEMA 12 enclosure, which can be positioned for easy operation. A combustion control system, set up per IRI standards, runs the gas infrared heaters within the predryer. The control system is designed to adjust the air/gas mixture to the infrared heaters by a thermocouple feedback control loop, maintaining a constant infrared heater face temperature. A safety gas train including all necessary regulators, pressure switches, gauges and piping is included. The Glenro gas infrared predryer is shipped prewired and pre-piped, which minimizes installation time and expense for the customer.

Headquartered in Paterson, New Jersey, Glenro Inc. provides process heating engineering and equipment for a wide range of industries and applications.

CONTACT: Glenro Inc.
Jim Alimena, 1-888-GLENRO1 (1-888-453-6761)
jimva@glenro.com
http://www.glenro.com

More from Fluid & Gas Flow Equipment