Predictive Maintenance made Very Easy!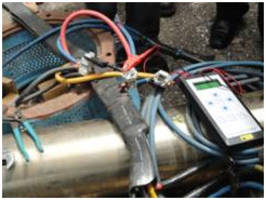 Complete stator & rotor analysis-detects Early faults in AC & DC motors, transformers & generators
Auto diagnosis within instrument - immediate health status report
Route-based testing and trending - ideal for predictive maintenance
Tests can be performed from distances of more than 1,000 feet away
Report shows bad connections, winding & turn faults, air gaps, broken bar, contamination and ground faults
In Stock and Ready for Delivery
For More Information :www.alltestpro.com
About ALL-TEST Pro, LLC
ALL-TEST Pro, LLC (ATP) manufactures handheld, portable instruments for the testing of electric motors, generators, transformers and other coil-based devices. ATP's De-Energized testing (Motor Circuit Analysis-MCA™), Energized testing (Electrical Signature Analysis-ESA) and Power Quality Analysis instruments provide predictive maintenance testing, quality control and troubleshooting for a low initial investment and rapid ROI.
ALL-TEST Pro, LLC,
PO Box 1139,
Old Saybrook, CT 06475
More from Test & Measurement