Precision Styli are suited for Zeiss CMMs.
Press Release Summary: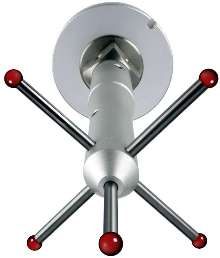 Constructed of tungsten carbide, titanium, ceramic, aluminum, stainless steel, carbon fiber, and hardened steel, 300+ M5 styli and adaptors are offered for Zeiss analog probe systems without probe changing, measuring heads with probe changers, and dynamic probe heads. Products include straight, fine, star, thread measurement, swivel styli, and spherical disc styli. Extensions, joints, adaptor plates, and precision mounting tools are also available.
---
Original Press Release:

Renishaw Launches a New Range of Styli for Zeiss CMMs


More than 300 high precision M5 styli and adaptors available for Zeiss probe heads

September 2004 - Renishaw, the world's number one supplier of scanning and touch trigger probes for co-ordinate measuring machines (CMMs), has extended its comprehensive catalog of precision styli, with the introduction of a new range of more than 300 high-precision M5 styli and adaptors for the Zeiss range of probe heads.

Already a supplier of probe systems for selected Zeiss CMMs, Renishaw has introduced the new range to enable users of Zeiss machines to benefit from the high precision specifications associated with Renishaw styli. The range is therefore compatible with Zeiss analogue probe systems without probe changing, measuring heads with probe changers and dynamic probe heads. For the Zeiss RST probe system, a wide selection of M2 and M3 styli is available.

The new styli range gives comprehensive coverage of probing applications, including standard straight styli, fine styli for precision work, star styli, thread measurement, swivel styli, spherical disc styli, plus a wide range of extensions, joints, adaptor plates, and precision mounting tools. A selection of cone styli is included for use with older Zeiss probes. A custom design service is also available, should users have specialist inspection requirements.

Throughout the range, the highest quality materials are used for construction, including tungsten carbide, titanium, ceramic, aluminum, stainless steel, carbon fibre and hardened steel. A brochure for the new range is available on request, or as a download from www.renishaw.com.

With the addition of the new Zeiss range, Renishaw has consolidated its position as the world leader in the supply of high precision styli, now offering almost 3,000 different items.

For more information on styli and adaptors for Zeiss probe heads, contact Denis Zayia, CMM Products Manager, Renishaw Inc. Phone: 847-286-9953. Fax: 847-286-9974.

For a detailed look at other productivity enhancements for metrology, linear position feedback, and machine tool calibration, visit Renishaw's recently updated website at: www.renishaw.com

Inquiries should be directed to:

Susan Wilm
Marketing Assistant
Renishaw Inc.
5277 Trillium Boulevard
Hoffman Estates, IL 60192

More from Architectural & Civil Engineering Products