Precision Slide Tables feature sealed linear bearings.
Press Release Summary: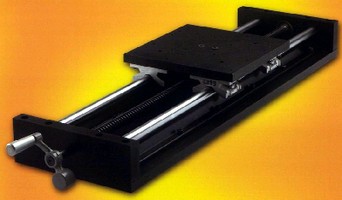 Pre-engineered to carry heavy loads under severe, continuous-duty operations, Precision Slide Table Systems are available with Roller Bearing Pillow Blocks or Precision Plus Linear Ball Bearings. Free rolling, self-aligning pillow blocks ride on case hardened and ground 60 Plus® linear shafting. They feature aluminum pillow block body with black oxide finish on exposed surfaces to resist corrosion. Slides are available with supported and unsupported shafting and are completely pre-aligned.
---
Original Press Release:
Precision Slide Table Systems Feature Sealed Linear Bearings For Smoother Running With Heavier Loads In High Speed, Continuous Duty Operations
Piscataway, NJ - LEE Controls Precision Slide Table Systems with sealed linear bearings are pre-engineered to carry heavier loads at higher speeds under severe, continuous duty operations. Whether configured with LEE Controls patented Roller Bearing Pillow Blocks or Precision Plus Linear Ball Bearings, the company claims longer system life with lower friction than typical recirculating ball bearing slide tables - and no periodic maintenance is required! "Most applications utilize the full slide table system," says Jim Ashworth, the company's Vice President. "The LEE Controls Precision Slide Table System is pre-assembled with matched bearings and shafts and pre-aligned. Factory tested, the system is ready for immediate installation and motor mounting on receipt," he adds. Full slide models include a pre-loaded ball screw nut and a precision rolled ball screw. Other ball screw pitches are also available. End supported or fully supported models are available with or without ball screw. "LEE Controls Precision Slide Table Systems meet the needs of a host of industries: packaging equipment, wood working, printed circuit board, medical diagnostic equipment, for example," explains Ashworth. "Think of slide table systems positioning CAT scan patients; their application in lumber mills for cutting machines and moving materials." For superior performance, Ashworth recommends LEE Controls free-rolling and self-aligning Roller Bearing Pillow Blocks riding on the companys precision case hardened and ground 60 Plus/® linear shafting. The all aluminum pillow block body has a black oxide finish on the exposed surfaces of the rollers to resist corrosion. Also offered is a slide table system that may be customized to individual needs. A variety of drive options permits the user to choose from a rodless cylinder, air cylinder, hydraulic cylinder, or rack and pinion. The slides are available with both supported and unsupported shafting and are completely pre-aligned, ready for immediate installation. A black anodize finish is available on all slide tables at an additional charge. Excellence in engineering leadership and innovation in precision linear motion products and power transmission systems are hallmarks of LEE Controls - COMMITTED TO WORKING SMARTER TO BECOME THE SUPPLIER OF CHOICE TO DISTRIBUTORS AND OEMs THROUGHOUT THE WORLD. For specifications and ordering information on the LEE Controls Slide Table Systems, contact: LEE Controls, Inc., 727 South Avenue, Piscataway NJ 08854 USA. Phone: 1-800-221-0811; FAX: 1-732-968-7080; E-mail: [email protected]; Web: www.linearmotion.com