Precision Machine measures roundness, profile, and surface finish.
Press Release Summary: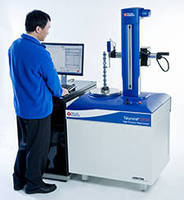 With high-speed column drive, precision positioning, and 4 mm roundness and contour gauge, Talyrond 500H accurately duplicates machine tool movements and exactly reproduces work piece shape. Low-noise metrology frame, accurate axis alignment, and data collection enable optimal straightness and roundness measurement. Along with high-resolution gauge, features include frictionless air-bearing spindle and precision column as well as teach and learn programming techniques.
---
Original Press Release:

Precision Surface Measurement Tool Provides Rapid, Accurate Feedback for Efficient Quality Control



New AMETEK Taylor Hobson 500H measures roundness, profile and surface finish on a single platform



A precision surface measurement tool featuring an industry-leading high-speed column drive, precision positioning and 4mm roundness and contour gauge has been introduced by Taylor Hobson, a unit of AMETEK, Inc.  (www.taylor-hobson.com). The new Talyrond 500H measures roundness, profile and surface finish on a single platform with high accuracy due to an extremely low noise floor.



Applications include:

• Automotive & parts

• Aerospace

• Bearings

• Machine tools

• Metalworking

• Medical

• Optics

• Agricultural machinery

• Marine



It is ideally suited for high-accuracy measuring applications including precision bearings, fuel injectors, crankshafts and turbocharger parts. Numerous specialized accessories allow the instrument to accommodate the industry's most demanding applications.



It accurately duplicates a machine tool's movements and exactly reproduces a work piece shape. This allows the Talyrond 500H to provide users with rapid feedback for efficient quality assurance.



A low-noise metrology frame, accurate axis alignment and a patented data collection method provide it with unmatched straightness and roundness measurement capabilities. A high-resolution gauge measures linear or circumferential surface roughness. A frictionless air-bearing spindle and precision column measure roundness, cylindricity and straightness. A patented calibration technique performs radius, angle, height, length and distance measurements.



Simplified teach and learn programming techniques, comprehensive user prompts and on-screen instructions combine for easy, error-free operation. It performs calibration, center and level functions along with measuring routines automatically.



Taylor Hobson is a leading manufacturer of ultra-precision measurement instruments for a wide range of markets including optics, semiconductors, manufacturing and nanotechnology research. It is a unit of AMETEK, Inc., a leading global manufacturer of electronic instruments and electromechanical devices with annual sales of more than US$3.6 billion.



Text and high resolution photos available at: . www.icmglobalnews.com/releases/ic1708-en.htm.



Product Sales Contacts:

UK / Southeast Asia

Graeme Foulds

Taylor Hobson Ltd

Email: graeme.foulds@ametek.co.uk

Tel: +44-0116 246 3016



Mexico

Cindy Drews

Taylor Hobson Inc.

Email: cindy.drews@ametek.com

Tel: +1 630 621 3099











More from Controls & Controllers