Precision Hybrid Ball Screws utilize ceramic rolling elements.
Press Release Summary: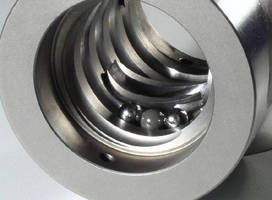 By using balls manufactured from silicon nitride instead of tool or stainless steel, Hybrid Ball Screws eliminate micro-welding in ball nut, minimizing friction and extending lifetime. Units are available in diameters ranging from 6-40 mm with pitches of 1, 3, 5, and 10 mm. Applications include semiconductor production machines, inspection equipment, medical/dental devices, aerospace robotics, and analytical equipment.
---
Original Press Release:

New Precision Hybrid Ball Screws with Ceramic Balls



Burlington, MA, -- Steinmeyer, Inc. announced another option to its standard line of precision ball screw products - hybrid ball screws using ceramic rolling elements. By using balls manufactured from silicon nitride instead of tool or stainless steel, Steinmeyer is able to eliminate micro-welding in the ball nut. The major benefits include longer lifetime, lower friction and less lubricant required. In a preloaded nut, micro-welding typically occurs whenever the lubricant film breaks down between the balls and thread, resulting in direct metal-to-metal contact. When the nut moves with respect to the screw shaft, tiny bits of the steel balls break off and mix with the lubricant in the nut, thus contaminating it. Over time, the solid metal chips in the oil or grease adversely affect the lubricant's ability to function effectively and cause adhesive wear. Premature failure follows.

With dissimilar materials in contact, namely high grade tool or stainless steel for the shaft and nut body and silicon nitride for the recirculating balls, micro-welding is prevented. There is an extra cost for these ceramic balls and they are available in limited diameters. Steinmeyer offers hybrid ball screws in diameters ranging from 6 mm to 40 mm with pitches of 1 mm, 3 mm, 5 mm and 10 mm (not all permutations).

Applications for hybrid ball screws include:

· semiconductor production machines

· inspection equipment

· medical and dental devices

· aerospace robotics

· analytical equipment.

The Steinmeyer group is comprised of two manufacturing divisions located in Germany. August Steinmeyer GmbH & Co. KG (located in Albstadt) has been setting standards for high precision ball screws for over 40 years and prides itself on high quality, innovative designs to meet demanding customer requirements. Our Feinmess Dresden (FMD) division has been producing an extensive line of high precision positioning systems for well over 130 years.

For further information on this new product or others in our extensive portfolio call 1-781-273-6220 or visit the Steinmeyer group at the following web site: www.steinmeyer.com

More from Fasteners & Hardware