Precision Hot Mirrors are offered 5 versions.
Press Release Summary: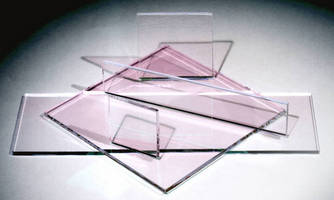 Model HM-VS-950 Hot Mirror transmits visible spectrum and reflects IR at normal incidence, while HM-UV-1050 UV-Pass Hot Mirror transmits greater than 80% from 245 to 460 nm spectral range and reflects over 70% from 800-1,050 nm. Series also includes HM-VS-1150 Color Neutral Hot Mirror for high color fidelity applications, HM-VS-1500 Hot Mirror for advanced UV blocking, and HM-VS-1600 Extended-Wavelength IR Blocker Hot Mirror that covers wide waveband in infrared region.
---
Original Press Release:

ZC&R Coatings for Optics Offers Expanded Family of Precision Hot Mirrors



Torrance, CA - ZC&R Coatings for Optics (www.zcrcoatings.com), part of ABRISA, Inc. (www.abrisa.com), offers a full line of heat control, dichroic optical coatings that filter unnecessary energy (heat) from a light source. The expanded family of precision hot mirrors is ideal for separating unwanted infrared from visible light for applications in medical, defense, aerospace, life sciences, imaging, astronomy, and entertainment industries.

The HM-VS-950 Hot Mirrors are affordable and reliable; they transmit the visible spectrum and reflect the infrared (IR) at normal incidence. ZC&R's UV-Pass Hot Mirrors, HM-UV-1050, are designed to transmit greater than 80 percent (average) from the 245 to 460 nm spectral range, and reflect greater than 70 percent (average) from 800 to 1050 nm at normal incidence.

ZC&R's HM-VS-1150 Color Neutral Hot Mirrors are ideal for imaging applications that require high color fidelity. They transmit the visible spectrum with minimal impact to color while reflecting significant IR energy. For extreme performance, the HM-VS-1500 Hot Mirrors offer enhanced UV blocking with durable, reliable operation. The Extended-Wavelength IR Blocker Hot Mirrors round out the product family to cover a wider waveband in the infrared with the HM-VS-1600. Custom angles of incidence are also available, per customer specifications.

ZC&R and ABRISA deliver high quality, standard and customized precision coating solutions with high-volume capabilities. For more information about the precision hot mirror product line, please visit: www.zcrcoatings.com.

ABOUT THE COMPANIES:

ZC&R Coatings for Optics (www.zcrcoatings.com) provides high quality precision coatings and components from 200 nm to 20 microns, from UV to the far IR, including high power laser coatings at 1.064, 1.54, 1.57, and 10.6 microns. Other coatings available are anti-reflection (AR), beam splitters, hot and cold mirrors, band pass color filters, heat and color control, ITO and index- matched ITO, metals coatings, dielectrics, covert and fluorescence filters. Specializing in prototypes and OEM volume, ZC&R is a leader in quality optical thin films. For more information, please visit: www.zcrcoatings.com.

ABRISA (www.abrisa.com), based in Santa Paula, CA, is an industry leader in providing OEM fabricated glass components and coatings for technology, optical, industrial and lighting applications worldwide. Abrisa's customized glass fabrication includes glass strengthening and coatings, precision machining, cutting and edging services, screen printing, and clean room specialty packaging. Recently, Abrisa acquired a new manufacturing facility in Sycamore, Illinois for fabricating advanced technology, military, display and optical products, and specializing in smaller, custom projects. Also acquired in 2007, ZC&R Coatings for Optics in Torrance, CA offers innovative and reliable precision optical coatings as part of the Abrisa family of products.

ZC&R Coatings for Optics, Inc.

1401 Abalone Avenue, Torrance, CA 90501

Contact: Jim Walker, Engineering Sales Manager

Phone: 310-381-3060

Toll-Free Phone: 800-426-2864

Fax: 310-782-9951

E-mail: jwalker@zcrcoatings.com

Web Site: www.zcrcoatings.com

More from Electrical Equipment & Systems