Precision, High-Speed Inkjet Printer offers UV curing.
Press Release Summary: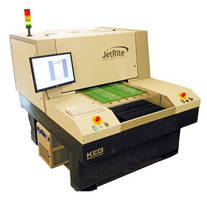 Measuring 73.23 in. deep x 59 in. wide, 3rd generation KLG JetRite PCB legend printing system has recirculating ink design for optimal quality. Rugged printer features serial number, bar code, and various custom printing capabilities. It also offers minimal setup time, even between 2-color batches, and can be supplied with autoload and unload capability.
---
Original Press Release:

US Tech Corp Intros 3rd Generation JetRite Fast, High Quality,Precision Inkjet Legend Printer



Skaneateles, New York, USA - US Tech Corp, a supplier of advanced equipment for PCB manufacturing, announces the launch of the new 3rd Generation KLG JetRite PCB legend printing system with immediate UV curing. The new JetRite boasts a smaller footprint than the original system, and greater speed overall for higher throughput.



The JetRite is a high quality, high speed precision inkjet legend printer built on a rugged, field-proven platform and incorporating the latest inkjet technology. The new 3rd generation JetRite also features a smaller space-saving footprint, 73.23" deep by 59" wide. The new JetRite delivers fast setup times even between two-color batches, and high speed printing with unbeatable resolution, precision, and superb image quality. JetRite offers serial number, bar code, and other custom printing capabilities, and uses a constant recirculating ink design that ensures consistent quality. JetRite can also be supplied with autoload and unload capability.



US Tech Corp is the worldwide Distributor for the German Drilling and Legend Printer manufacturer KLG, recognized as a global leader in the area of High Speed PCB Drilling and Routing machines, Micro-Drilling machines, and the innovative JetRite High Speed Precision Inkjet Legend Printer. KLG machines are known for their extremely high accuracy, high reliability, and easy handling.



About US Tech Corporation

U.S. Tech Corporation was founded in 1984 to manufacture products based upon some of the technologies that had been developed by its sister company Automation Concepts, Inc. Automation Concepts had developed technology for such notable entities such as Eastman Kodak, General Motors, Delphi Corporation, Carrier Air Conditioning, Ford Motor Company, Excellon Automation, NATO, U.S. Army, U.S. Air Force, U.S. Navy and Niagara Mohawk Power Corporation. U.S. Tech Corp. has been active in the Printed Circuit Board Industry since it first developed the microwave-based tool sensor for Excellon in 1984. U.S. Tech manufactured over 5,000 units of several models of its reliable sensor for the PCB industry for Excellon, Klingelnberg and other equipment manufacturers. Today, U.S. Tech provides state-of-the-art production and process optimization products to the PCB industry.



Press Contact:

Michael L. Martel

Tel. 401-480-3433

E-mail: mmcmarketing@gmail.com