Precision Handheld Pumps come in 4 models.
Press Release Summary: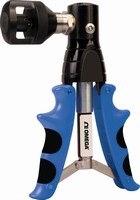 Featuring dual O-rings on all pistons for smooth operation with zero leakage, HPP-100 and HPP-VAC are designed for 0-100 psi or 0-028 in Hg vacuum. Model HPP-600 pneumatic pump can generate both vacuum and pressure and covers range from 28 in.Hg vacuum to 600 psi pressure. Compatible with most hydraulic fluids, oils, and water, HPP-10K hydraulic pump can generate pressure from 0-10,000 psi. Units are suited for automotive, chemical, and petroleum industries.
---
Original Press Release:

Precision Handheld Pumps for Pressure and Vacuum Calibration



Omega's new HPP series precision calibration pumps come in four models: the HPP-100 and HPP-VAC are economical pumps designed for 0 to 6.9 bar (0 to 100 psi) or 0 to -.95 bar (0 to 028 in Hg vacuum). Both models feature dual O-rings on all pistons for smooth operation with zero leakage. The HPP-600 is a pneumatic pump that can generate both vacuum and pressure. It covers a range from -.95 bar (28 inHg) vacuum to 41 bar (600 psi) pressure. The HPP-10K hydraulic pump can generate pressure from 0 to 690 bar (0 to 10,000 psi). It is compatible with most hydraulic fluids, oils, and water. All pumps are designed to provide long term reliability in harsh environments. This product is perfect for automotive, chemical, and petroleum industries.

Price starts at $349

For more information, go to the OMEGA Engineering Inc. web site at
http://www.omega.com/pptst/HPP_Series.html

OMEGA ENGINEERING, INC., One Omega Drive, Stamford, CT 06907 Tel: 203-359-1660 Fax: 203-359-7700info@omega.com

www.omega.com