Precision Glass & Optics Offers Precision Optics for Military Apps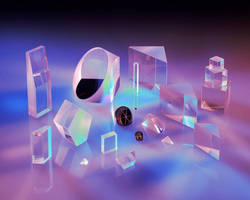 Santa Ana, CA - Precision Glass & Optics (PG&O), an expert in optical manufacturing for 25 years, offers advanced thin film coatings, commercial optics, and precision optics (standard and customized) for military and defense applications. The in-house facility specializes in plano optical components, from prisms to windows, beamsplitters, light pipes, optical mirrors and retro-reflectors.

PG&O can quickly provide a large variety of glass and thin film coated optical materials, from square, rectangular and/or circular parts. Optics can be customized to exact specifications or shipped from in-stock items, within a 48-hour turn around, for time-critical projects.

Fabrication services include the new abrasive waterjet technology, laser engraving, annealing, CNC machining, drilling, double-sided grinding and polishing, diamond bandsawing, slicing, scribing, and more. PG&O's polishing capabilities (up to 36") typically achieves flatnesses to ë/20, parallelism to 1 arc second, and tolerances to ±.0005". Thermal and chemical tempering is also available to meet the most demanding part-strengthening requirements. Optical thin film coating capabilities include a chamber that enables coatings up to four, 24" substrates.

Implementing the fundamentals of MIL-I-45208A as well as the optical manufacturing disciplines of MIL-PRF-13830B, the company's glass, optics, and thin film coating services are ideal for a wide variety of military and defense tasks. Other precision optical areas of application include biomedical, solar, imaging, scanning, digital cinema, and laser manufacturing. For more information, please visit: www.pgo.com.

Precision Glass & Optics - www.pgo.com - PG&O has delivered excellent quality glass, optics, and optical coatings for a variety of applications for over 25 years. The company offers an extensive materials inventory plus a full optical fabrication shop, three large coating chambers, and an expert, in-house engineering staff, for your convenience. Our cost-effective and reliable optics and advanced thin film coatings are ideal for military, aerospace, biomedical, imaging, laser, digital cinema, solar markets, and more.

Related