Precision Gear Racks are offered in round or square versions.
Press Release Summary: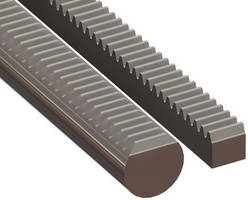 Available in module sizes from 0.5 up to 3.0 as standard, precision gear racks are offered in standard lengths from 400 mm and in increments of 600 and 1,200 mm long. Made of 303 stainless steel, round forms feature 0.5/400 mm straightness, 0.10 mm total pitch deviation and 0.4 Ra surface finish on diameter. Square racks come in at 1.0/1,000 mm straightness with 0.10 mm total pitch deviation, and are made of 080A47 steel. Racks can be cut to full length or for butt joining.
---
Original Press Release:
Ondrives Precision Gear Racks Range
Ondrives have introduced a range of precision gear racks into their recently launched precision gear range. All are made in-house to quality grade 8 ISO 1328 at 20 degrees PA and there is a choice of round or square gear rack to choose from. Round forms are generally 303 stainless steel and square are 080A47 steel. Module sizes start at 0.5 Mod going up to 3.0 as standard and others are available on request, states Sales Director Andy Higgs. "We are always happy to quote to customer's drawings and for specials, it's something we relish and it doesn't have to be volume enquiries either, we are able to produce prototypes and one off specials", he continues. Standard lengths range from 400mm and are available in increments of 600mm and 1200mm long. They can also be cut to full length or cut for butt joining, customers just need to specify this at the time of ordering. Performance statistics for round racks are 0.5mm/400mm straightness, 0.10mm total pitch deviation and 0.4Ra surface finish on diameter. Square racks come in at 1.0mm/1000mm straightness with 0.10mm total pitch deviation. All racks are cut starting at half tooth spacing with racks cut for butt joining finishing at half tooth spacing. Joining gauges are also available to purchase on request. Full details, including diagrams and dimensional tables, are available in both the most recent free catalogue and online at www.ondrives.com
More from Packaging Products & Equipment