Precision Comparator comes with integrated 2.048 V reference.
Press Release Summary: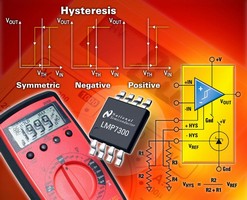 Built on VIP50 BiCMOS process technology, Model LMP7300 features low-offset voltage of 300 µV, supply current of 10 µA, and supply voltage range of 2.7-12 V for use in 3.3, 5, and ±5 V applications. Low-power amplifier offers adjustable hysteresis and less than 5 µsec propagation delay to enable precise and high-accuracy signal detection. Available in 8-pin SOIC package, unit is suited for precision battery-operated systems.
---
Original Press Release:

National Semiconductor Introduces Highest-Accuracy Integrated Micropower Comparator Reference



SANTA CLARA, Calif. - October 31, 2007 - National Semiconductor Corporation (NYSE:NSM) today introduced a new low-power precision comparator with integrated 2.048V reference that provides adjustable hysteresis for the highest-accuracy signal detection in power supply and battery monitors, sensor interface and threshold detectors. The LMP7300 is the latest addition to the company's PowerWise® energy-efficient product family.

The LMP7300's adjustable hysteresis improves the noise immunity of the comparator and prevents false readings by providing engineers the flexibility to develop precise bidirectional threshold trip points that are positive, negative, symmetric or asymmetric. In addition, the two threshold trip points are independent of one another to further simplify designs without interdependency constraints.

The comparator's low-offset voltage of 300 µV and low supply current of 10 µA make it well-suited for precision battery-operated systems. It has a wide supply voltage range of 2.7V to 12V for use in 3.3V, 5V, and plus and minus 5V applications. A 2.048V reference voltage with 0.25 percent maximum error provides a precise input monitoring voltage reference level. The comparator's propagation delay is less than 5 microseconds to enable fast, precise, low-power signal detection.

Built on National's proprietary VIP50 BiCMOS process technology, the LMP7300 is the latest addition to the company's precision and low-voltage, low-power amplifier families. These amplifiers dramatically improve system accuracy and power consumption.

About National's Amplifier Portfolio

Specializing in high-performance amplifiers and comparators, National Semiconductor offers a complete portfolio of op amps addressing the high-speed, precision, low-voltage, and low-power markets with products ranging from building-block ICs to application-specific standard products (ASSPs). The company has a long history of setting industry standards in amplifiers and continues this trend with product releases on National's advanced VIP10 bipolar and VIP50 BiCMOS processes. National also leads the industry in packaging technology with its revolutionary Silicon Dust(TM) and micro SMD packaging technologies. For more information on National's amplifier products, visit amplifiers.national.com.

Pricing and Availability

The LMP7300 is available now in an 8-pin SOIC package for $1.05 in 1,000-unit quantities. For more information and easy-to-order samples, visit www.national.com/pf/LM/LMP7300.html. National's Amplifiers Made SimpleSM WEBENCH® online design tool supports a large selection of amplifiers. To explore these solutions, visit webench.national.com. To learn more about designing with amplifiers, visit our library at national.com/onlineseminar/#amps.

To view a high-resolution downloadable photo of this product, visit National's photo gallery at http://national.com/company/pressroom/gallery/oa.html.

About National's PowerWise Brand

National's PowerWise brand reflects the company's energy-efficient product portfolio. It signifies products with outstanding performance-to-power at the component level, as well as products that provide an outstanding, energy-efficient solution when coupled with other National parts. National's PowerWise family of products features energy-efficient power management, operational amplifiers, interface and data conversion products. For more information about National's PowerWise brand, visit: www.national.com/powerwise.

About National Semiconductor

National Semiconductor, the industry's premier analog company, creates high-value analog devices and subsystems. National's leading-edge products include power management circuits, display drivers, audio and operational amplifiers, interface products and data conversion solutions. National's key analog markets include wireless handsets, displays, communications infrastructure, medical, automotive, industrial, and test and measurement applications. Headquartered in Santa Clara, Calif., National reported sales of $1.93 billion for fiscal 2007, which ended May 27, 2007. Additional company and product information is available at www.national.com.

Contact Name:

Mark Alden
Title: Public Relations Manager
E-mail: [email protected]