Precision Ball Screws feature friction-minimizing deflectors.
Press Release Summary: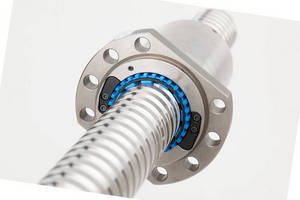 UltraSpeed precision ball screws are based on ball return system with deflectors that guide balls into return channel spanning whole nut length. With complex geometry that minimizes friction, precision-milled deflectors allow for high speeds with minimal wear. Ball screws come in 32-100 mm dia versions and have lead-to-diameter ratios from 0.5:1 to 1:1. Speed ratings are up to and beyond dN=160,000, while linear velocities of 4,000 ipm are possible at accelerations of 2 G or higher.
---
Original Press Release:

New Ball Return Design for Ultraspeed Series



Burlington, MA - Steinmeyer, Inc. announced today a new design to the ball return for its UltraSpeed line of precision ball screws. This new design is based on a new ball return system that uses precision ball deflectors to guide the balls into a return channel spanning the whole nut length. The deflectors are precision milled and utilize a complex geometry that minimizes friction thus allowing higher speeds with less wear and better smoothness.

Steinmeyer's UltraSpeed series of ballscrews is available in nominal diameters from 32 mm to 100 mm, and enable speed ratings up to and beyond dN=160,000. Through advanced thread grinding technology, and with lead-to-diameter ratios from 0.5:1 to 1:1, linear velocities of 4,000 inches per minute are possible at accelerations of 2 g's and higher. Ideal applications include:

High speed laser cutting machines

Drilling machines

Electronic assembly machines

The Steinmeyer group is comprised of two manufacturing divisions located in Germany. August Steinmeyer GmbH & Co. KG (located in Albstadt) has been setting standards for high precision ball screws for over 40 years and prides itself on high quality, innovative designs to meet demanding customer requirements. Our Feinmess Dresden (FMD) division has been producing an extensive line of high precision positioning systems for well over 130 years.

For further information on this new product or others in our extensive product portfolio call 1-781-273-6220 or visit the Steinmeyer group at the following web site: www.steinmeyer.com

CONTACT:

John Skaltsas

Sales and Marketing

Steinmeyer, Inc.

56 Middlesex Turnpike

Suite 200

Burlington, MA 01803

TEL: 781-273-6220

FAX: 781-273-6602

More from Software