Precision Aspheric Lenses are provided as COTS solution.
Press Release Summary: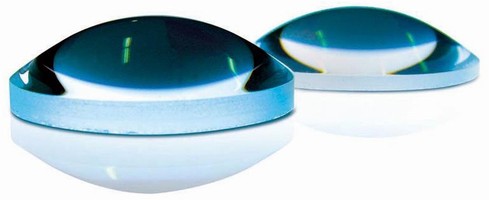 Enabling control of light-ray refraction over entire lens surface, TECH-SPEC(TM) commercial off-the-shelf (COTS) lenses are computer-optimized to eliminate spherical and minimize higher order aberrations. They are available with clear apertures from 15-25 mm and effective focal lengths from 11.25-37.5 mm, providing pin-sharp images at optical speeds up to f/0.75. Aspheric geometries with greater than 100 µm departure can be manufactured in glass, ceramic, or crystalline materials.
---
Original Press Release:

Edmund Optics Announces Off-the-Shelf Aspheric Optics



23 March 2006 (Barrington, N.J.) − Aspheric lenses offer optical designers excellent control of light-ray refraction over the lens' whole surface, making it possible to produce optical systems with higher performance in more compact packages than is possible with more conventional lenses. The catch is that accurately fabricating aspherical surfaces requires specialized equipment and expertise, putting the technology out of reach for most optical-system designers. Edmund Optics has changed that situation by offering a line of high-performance aspheric optical components in the sizes most useful to optical system designers.

Edmund has the expertise and equipment to produce aspherical optical components from 10 mm diameter to 200 mm diameter with 1/20 accuracy. Not only does Edmund offer its customers access to this technology, they have used it to fabricate a stock of reasonably priced TECH-SPEC(TM) aspheric lenses with clear apertures from 15 mm to 25 mm and effective focal lengths from 11.25 mm to 37.5 mm. Because these lenses have aspheric surfaces, they can provide pin-sharp images at phenomenal optical speeds up to f/0.75!

The company's state-of-the-art environmentally controlled aspheric manufacturing facility houses advanced aspheric grinding and polishing equipment coupled with magnetorheological finishing (MRF) technology for super-accurate lens polishing. This facility produces high-departure aspheric geometries (>100µm departure) that can be manufactured rapidly and cost effectively in glass, ceramic or crystalline materials.

Edmund's commercial off-the-shelf (COTS) TECH SPEC(TM) Precision Aspheric Lenses offer the benefits of an aspheric design performance combined with the manufacturing precision of state-of-the-art grinding and polishing equipment. With the available prescription data, optical designers can easily integrate these lenses into complex state-of-the-art optical systems. Featuring high lens speeds for optimum light gathering and focusing performance, these lenses are computer optimized to eliminate spherical and minimize higher order aberrations.

About Edmund Optics
Edmund Optics (EO) is a leading producer of optics, imaging, and photonics technology. Supporting the R&D, electronics, semiconductor, pharmaceutical, biomedical, and military markets around the globe; EO products are used in a variety of applications ranging from DNA sequencing to retinal eye scanning to high-speed factory automation. EO's state of the art manufacturing capabilities combined with its global distribution network has earned it the position of the world's largest supplier of off-the-shelf optical components. Customers can purchase items by contacting EO at 1-800-363-1992, via the catalog, or via the website at www.edmundoptics.com.

Company Contact
Marisa Edmund
Director of Marketing
Edmund Optics
101 East Gloucester Pike
Barrington, NJ 08007 U.S.A.
Phone: 1-856-573-6250
Fax: 1-856-573-6295
medmund@edmundoptics.com

More from Controls & Controllers