Precision/Analytical Balances have six application modes.
Press Release Summary: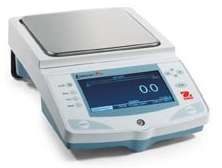 Explorer® Pro balancers provide backlit dot matrix display, intuitive man/machine interface, and AutoCal(TM) feature. Units also include up-front leveling system, RS232 connectivity, and GLP Data capabilities. Analytical balances are available in capacities and readabilities ranging from 62 g x 0.1 mg to 210 g x 0.1 mg, while Precision models range from 210 g x 0.001 g to 8,100 g x 0.1 g. High Capacity models range from 12,000 g x 0.1 g to 32,000 g x 0.1 g.
---
Original Press Release:

Ohaus Explorer® Pro Balances Take Performance to the Big Leagues


Pine Brook, NJ (March 3, 2003) - Ohaus Corporation, a leading manufacturer of balances for the laboratory, industrial, education and specialty markets worldwide, today announced the launch of its Explorer® Pro line of precision and analytical balances. One of three new Ohaus Pro Series products introduced at Pittcon 2003, the Explorer Pro balances combine a host of new capabilities with an incredibly intuitive man/machine interface to take the performance of both the balance and its user to the highest possible level. Equipped with numerous new features including six application modes, a large backlit dot matrix display, multiple languages including English, Spanish, French, German and Italian as well as an optional AutoCal(TM) feature, Explorer Pro is sure to make an immediate and lasting impact on the weighing game.

"The Ohaus Explorer has always been recognized as an easy to use, reliable workhorse balance for a wide variety of common applications," said Paul Wesolowski, Director of Marketing, North America. "In designing Explorer Pro, we remained true to that successful formula, but made a number of enhancements as well. The result is a dependable workhorse balance that is extremely easy to operate, jam packed with advanced capabilities and backed by the industry leading service and support that comes with every Ohaus product. All of this comes at a price point that makes Explorer Pro very hard to beat."

Explorer® Pro Analytical balances are available in capacities and readabilities ranging from 62g x 0.1mg to 210g x 0.1mg. Explorer Pro Precision models range from 210g x 0.001g to 8100g x 0.1g, and Explorer Pro High Capacity models range from 12000g x 0.1 g to 32000g x 0.1 g. Every Explorer Pro features six built-in application modes including weighing, parts counting, percent weighing, check weighing, filling and gross/net/tare.

The Explorer Pro line continues the long-standing Ohaus tradition of delivering products that offer the best price/performance ratio possible. With standard features like an up-front leveling system, RS232 connectivity and GLP Data capabilities including date, time, balance ID, user ID, project ID and reference, it's easy to see what sets a Pro apart from its peers. Explorer Pro's optional AutoCal feature is an excellent example of what to look for in a Pro. Available on every Explorer Pro model, AutoCal ensures the highest degree of accuracy by automatically calibrating the balance when it senses a temperature change sufficient enough to affect weighing accuracy.

One of three new Pro Series products launched at National Manufacturing Week, the Ohaus Explorer Pro line brings together several key elements to bridge the gap between ease of use and sophisticated operation.

The value of the Pro Series products' many technological advances is best illustrated in the highly intuitive man/machine interface that makes each of these products a Pro within its respective class.

Explorer Pro's cutting edge design and intuitive user prompts make the products' many advanced applications easy to follow and easy to use. Even complex operations are made simple with the balances' three soft keys, which are application specific and allow direct access to items such as calibration, units, new count, sample size, new reference, reference, new target and/or target.

The new backlit Dot Matrix display allows users to display either simple weighing results or more advanced results including piece count, average piece weight, sample size, tare weight and more. In fact, only Explorer Pro allows users to simultaneously view this type of reference information along with the actual weight of the load on the platform. The capacity guide provides a visual aid by displaying the relationship between the total load on the platform and the total capacity of the balance, whereas the fill guide displays the relationship between the total load on the platform and a user defined target.

Even the application modes found in Explorer Pro are more advanced. For example, the animal weighing application allows users to perform animal weighing procedures in either manual, semi-auto or automatic modes. The parts counting function includes parts counting check and parts counting fill features and the check weighing application is capable of displaying results as a weight or a message (under, accept or over).

In addition to numerous new features and capabilities, every Explorer Pro balance comes equipped with everything you would expect from a product that carries the Ohaus name. An up front leveling bubble ensures that the balance is level before each use, while its programmable filtering capability compensates for vibrations and other disturbances to ensure accuracy and precision every time. Explorer Pro comes standard with a weigh-below hook, which facilitates easy and accurate density and gravity determination. A standard in-use cover protects Explorer Pro from spills at no additional cost, while an integral security bracket protects your investment from theft.

The standard RS232 port connects Explorer Pro directly to the optional, low cost Ohaus SF42 printer for outputting of GLP data, while the standard auxiliary port provides flexibility for use in legal applications requiring a secondary display. NTEP and OIML approved models of both the precision and analytical balances are available for use in legal environments such as jewelry shops and pharmacies.

Every Ohaus product is backed by the industry-leading service and support that has become synonymous with the Ohaus name.

Ohaus Corporation manufactures an extensive line of high precision, portable, industrial and mechanical balances for the laboratory, industrial, education and specialty markets. An ISO 9001 manufacturer, Ohaus is headquartered in Pine Brook, New Jersey, and has offices throughout Europe, Asia and Latin America. For additional information, please contact Ohaus Corporation at 973/377-9000, or visit the Ohaus web site at: www.ohaus.com.

More from Material Handling & Storage