Precision 8 in. Vise reduces part setup and changeover times.
Press Release Summary: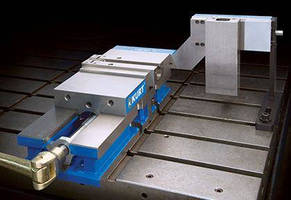 Available with 3.750 in. jaw opening, SideWinder™Â SDW35 provides vertical workholding of parts for second operation machining in same setup. This 8 in. vise, with max clamping force of 4,000 lb, has Anglock® design that decreases jaw deflection, distributes clamping force evenly and precisely across full jaw surface, and reduces jaw lift. Other features include workstop and porosity-free, 80,000 psi ductile iron body. Pull-type feature reduces stationary jaw deflection.
---
Original Press Release:

Kurt® Introduces Second Model SideWinder(TM) Vise-Mounts to All New and Existing Kurt 8 and 6 Inch Vises, Plus Mounts to Non-Kurt Vises with Kurt Industry Standard Bolt Pattern



Minneapolis, Minnesota – Users of Kurt 8 inch vises now have a second SideWinder™ vise option with a 3.750" jaw opening. Both the new and existing model SideWinder™ vises provide vertical workholding of parts for second operation machining in the same setup.



Responding to vise user's success with the original SideWinder model for Kurt 6 inch vises, Kurt designed this new larger model SDW35 that boasts a maximum clamping force of 4,000 lbs. It operates on both 8 inch as well as 6 inch Kurt vises. The original SideWinder™ model SDW25 II is designed to operate only on 6 inch vise. Both SideWinder models feature the original Kurt Anglock® design for decreasing jaw deflection, while distribute clamping force evenly and precisely across the full jaw surface. The Anglock® design in the moveable jaw (patented and made world famous by Kurt) reduces jaw lift. SideWinder™ vise also features a pull-type feature reducing stationary jaw deflection and making the Sidewinder™ vise very precise.



Additional SideWinder™ vise features for both models include integral bracket with stabilization feature allowing mounting to the machine table on the movable end of the vise. Both vises also have a workstop to position the height of the part. The elevated position of the SideWinder vise allows for longer reach machining and does not interfere with the operating envelope of the host vise. Like all Kurt vises, both SideWinder™ models have robust, porosity-free, 80,000-PSI ductile iron bodies.



These SideWinder™ vises are designed for use on the latest machine tools including machining centers and knee-type mills. SideWinder vises are ideal for all types of machining operations including precision boring, tapping, drilling and finishing with accuracy on most part configurations. Like all Kurt vise products, the SideWinder vise is backed by Kurt's exclusive Lifetime Ironclad Warranty.



"These SideWinder™ vises are a great way to make two vises into one," reports Steve Kane, global sales and marketing manager for Kurt. "They are advanced workholding designs proven to reduce part setups and changeover time, a goal of every profit-conscious machine shop because they expand machining productivity without adding new machines or expensive fixturing."



Kurt Manufacturing Company, Industrial Products Division, 9445 East River Road NW, Minneapolis, Minnesota 55433. In USA, Fax 1-877-226-7828. Outside USA, Fax 1-763-574-8313.

Related