PRECI-FLEX Rotary Tools delivers a 10,000 rpm speed.
Press Release Summary: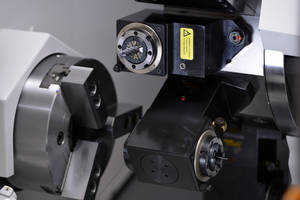 PRECI-FLEX Rotary Tools are offered in various sizes with 1:1 ratio in horizontal (H) type 90° radial holders and vertical (V) type straight off-set axial holders. These units are designed for Mazak QUICK TURN and QTU Series Turning Centers and feature monoblock housing for maximum torque transmission. Compensating Clutch with floating coupling automatically compensates misalignments if exists.
---
Original Press Release:
High-Speed PRECI-FLEX® Tooling Available for Mazak Turning Centers
EXSYS Tool, Inc. has expanded its industry-leading line of PRECI-FLEX® modular tooling systems to include a 10,000-rpm, 1:1 ratio rotary tool for Mazak QUICK TURN and QTU Series Turning Centers. The faster toolholders effortlessly match the processing speed of optional 10,000-rpm machine spindles to boost productivity and achieve excellent surface finishes.
Manufactured by EPPINGER, PRECI-FLEX offers unmatched flexibility, precision and cost savings. The short, compact design with monoblock housing assures maximum torque transmission and rigidity, resulting in increased machining accuracy and improved productivity. Additionally, PRECI-FLEX's conical and flat face planar interface allows the use of either an adapter or a standard ER collet, and enables collets, endmill holders, expanding collet chucks and shrinks fit tooling to be mounted on a single base holder.
The tooling system also features an EXSYS/EPPINGER Compensating Clutch with a floating coupling between turret drive motor tangs and toolholders that automatically compensates for any misalignment. The resulting high-precision alignment reduces vibration and tool chatter, which, in turn, makes for longer tool life and better surface finishes.
Available in a range of sizes, the 10,000-rpm, 1:1 ratio PRECI-FLEX is available in Horizontal (H) type 90-degree radial holders and Vertical (V) type straight off-set axial holders. Every toolholder provides unsurpassed repeatability within five microns. The system also virtually eliminates machine downtime and allows tooling adapters to be interchanged between fixed and rotary base holders for fast, economical machining.
About EXSYS Tool, Inc.
Founded in 1987, EXSYS Tool, Inc. is the exclusive importer of German-made EPPINGER solutions, including high-precision live and fixed toolholders for CNC turning centers, modular adapter systems for quick lathe tooling changeovers and gear box solutions for a wide range of applications. With headquarters near Tampa, Fla., and support offices in California, Canada and Mexico; EXSYS offers a variety of different tool holders, gold standard tooling repair and applications expertise to manufacturers throughout North America. For more information, please contact EXSYS Tool, Inc. at [email protected] or visit www.exsys-tool.com.