Precast Concrete Guideway Walls for OIA Produced and Delivered by Leesburg Concrete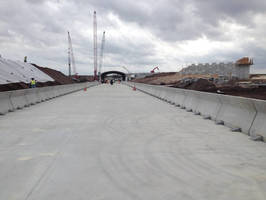 Leesburg Concrete Company, Incorporated (LCCI) recently completed the contract for precast concrete guideway walls for the OIA South Airport Automated People Mover (APM) Complex. LCCI was subcontracted by Hensel Phelps. "The OIA project was a great opportunity for us, another high profile project and a relationship with a quality contractor" said Kirk Rouse, Leesburg Concrete Vice President.  "We were requested by Hensel Phelps to accelerate production and we were able to accommodate the request to their satisfaction. We found Hensel Phelps to be a top notch company to work with from start to finish." 



It appears Hensel Phelps had a similar experience as they treated LCCI employees a catered BBQ appreciation luncheon after final delivery of the guideways walls.  LCCI reached out to thank the team at Hensel and received this communication from Joseph W. Bowen, Project Manager of the Construction Group OIA South Airport APM Complex, "Can't thank you and your team enough for the outstanding service and quality products provided on the job. Leesburg Concrete is a world class organization and I look forward to working with you on future jobs. Thanks again!"



Leesburg Concrete Company, Incorporated continues to produce quality precast and deliver customer satisfaction. 



Leesburg Concrete Company, Incorporated

Family owned and operated since 1983, Leesburg Concrete Company, Incorporated was first a leading manufacturer of precast concrete steps decks, walkways, landings, and ADA compliant modular precast concrete wheelchair ramps, with steel guard rails, and handrails. They manufacture Easi-Set® Buildings, Easi-Span® field assembled large and ultra-large buildings and Easi-Set® restrooms. These buildings feature a patented post-tensioned roof and floor. LCCI also produces structural building panels, architectural cladding, stairs and several other products including miscellaneous metals products. This American, family-owned company demonstrates a philosophy of quality and innovation.



Leesburg Concrete Company, Incorporated is an NPCA Certified Plant, focused on meeting the needs of commercial building construction projects. Their experienced staff provides turnkey service, and it only takes one call to find the solution to your building needs. For more information visit their website at www.leesburgconcrete.com, 800-882-4177, or KRouse@leesburgconcrete.com.





More from Fluid & Gas Flow Equipment