Precast Concrete Fences offer multiple customization options.
Press Release Summary: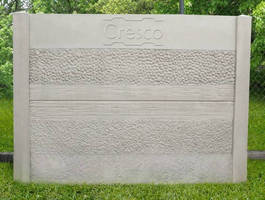 Litecast™ concrete fences can be customized with images/shapes embossed on Econo panels. Custom textures are also possible. Along with posts and copings of steel and fiber-reinforced, high-strength concrete, construction includes panels made from steel and fiber-reinforced cellular lightweight concrete. Panel materials can also be customized to meet antiballistic requirements or with ultra-low density, non-metallic, reinforced super lightweight panels or recycled concrete.
---
Original Press Release:
Mass Customization Comes to Precast Concrete Fences
(Houston, TX) Cresco Concrete Products, LLC has brought mass customization to precast concrete fencing with the introduction of its low cost Econo panels as part of its proprietary Litecast™ concrete fence products. Company logos or family emblems can be incorporated into panels that make up a standard panel and post design. Your likeness, favorite image or shape can be embossed on concrete panels to create a one-of-a-kind look. Unique custom textures are also possible and all at a cost that is no greater than a typical precast fence. Litecast™ concrete fences feature posts and copings of steel and fiber reinforced high strength concrete and panels made from steel and fiber reinforced cellular lightweight concrete. Cellular concrete is produced by combining compressed air with a nontoxic liquid foaming agent, a foam is formed which is introduced into regular concrete leaving numerous discrete fine air pockets within the material. The air content makes the panels lighter in weight and also improves theirs noise absorption properties.

"Today you can have a fence around your company or community that clearly identifies that property as yours by means of logos, emblems, symbols or unique textures", says Peter Thompson, Technical Advisor for Cresco Concrete Products, LLC.

Panel materials can also be customized to meet special requirements. Panels can be made from antiballistic materials for applications where projectile resistance is a must. Utility companies, for example, find this feature important in bullet proofing their walls to provide a measure of defense against terrorist and other threats. Ultra-low density, non-metallic reinforced super lightweight panels can also be produced as an alternative to wood or vinyl. These panels can be cut and shaped and be nailed or screwed to wooden or steel posts and would offer a greater range of texture options and more durability than wood or vinyl. For the environmentally conscious, panels with a high degree of recycled concrete are also possible.

The photo on the right depicts the following five one foot tall panels stacked upon each other to form a display (from top to bottom): Custom logo design on Plain panel, Round Rock, Barnwood, Small Stone and Skip Trowel Stucco textures. The display is finished with Cresco's Premocoat™ Microrender paint alternative which can be applied to concrete that is still curing.

Cresco Concrete Products, LLC manufacturers its products from its facility in Houston, Texas and ships nationwide. The company's products include the revolutionary Liteblok™ mortarless, interlocking building block, Litecast™ and Premocrete™ precast concrete fencing, pier and wall caps, parking stops, equipment pads, insulating skirting panels, fastening systems and stucco and paint alternatives. Cresco also offers cast stone products including accent blocks, address blocks, address markers, balustrades, bollards, columns, crown molding, entry ways, fireplaces, headers, keystones, mantels, pavers, planters, pool coping, signs, vent blocks, water tables, window surrounds and windowsills. Additional information about Cresco's products can be obtained by contacting the company or visiting its website at CrescoConcrete.com.
More from Explosives, Armaments, and Weaponry