Preamplifier includes gain, filtering, and TEDS.
Press Release Summary: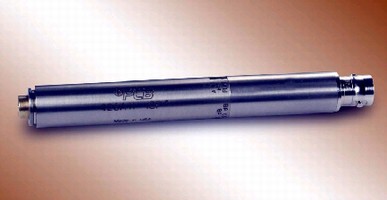 Operating from ICP® Sensor Power, ½ in. Model 426A11 provides automotive and aerospace noise source identification and in-cabin testing. It allows user to select 0 or +20 dB of gain and either 20 Hz high pass filter or A-weighted filter output response. A-weight filter attenuates signals less responsive to human ear, normally below 1 kHz and above 4 kHz, while high pass filter eliminates low frequencies that consume dynamic range and overload output signals.
---
Original Press Release:

New ½ in. Preamplifier with Gain, Filtering and TEDS for Automotive and Aerospace Noise Source Identification and In-Cabin Testing



September 8, 2006, Depew, NY, USA - PCB Piezotronics, Inc. introduces a new model to its line of acoustic products. Model 426A11 is a 1/2" preamplifier that operates from ICP® Sensor Power. The preamplifier allows the user to select 0 or +20 dB of gain and either a 20 Hz (-3dB) High Pass Filter or A-Weighted filter output response, in lieu of flat unfiltered response, via two switches, located on the external diameter. An overload detector senses both polarity overload signals in front of the filters. The unit comes standard with TEDS and is programmable upon request.

Model 426A11 preamplifier includes both A-weight and selectable "High Pass" filter, for automotive or aerospace cabin testing requirements. The "A-weight" filter attenuates signals less responsive to the human ear, normally below 1 kHz and above 4 kHz. This filter represents how the human ear perceives that sound. To make the cabin less noisy, a random incidence microphone (such as PCB Model 377B20), designed to measure sound from different angles of incidence, along with A-weight filter, is the choice of test equipment.

When an "in-cabin" automotive test is performed, some manufacturers will sometimes dangle a microphone and preamplifier inside the car's cockpit. Any movement will cause the microphone to sway, generating low frequencies that are not the target of the test and adversely affecting results. The "High Pass" filter eliminates low frequencies, which are not of interest, consuming the dynamic range and overloading output signals. This filter, along with the low noise rating of the microphone and preamplifier combination, helps ensure minimal Noise Floor. The 426A11 has a guaranteed electrical noise rating of 5.6 µV (3.7 µV typical) at the output, while set on 0 dB gain and with high Pass filter selected.

The 426A11 is designed to work in a wide range of temperatures (-20 °C to +70 °C), which makes it an excellent choice for "Under Hood" automotive noise source identification, or brake noise tests, where higher operating temperatures may be required. The product can also be used in standard automotive "Pass By" Tests, which is conducted to minimize the noise outside the vehicle, while in operation.

The 426A11 is offered with PCB's "Total Customer Satisfaction" policy. If for any reason, at any time, you are not satisfied with our product, you can return it for an exchange or refund.

For additional information on traditional externally polarized or the modern prepolarized condenser microphones, or our "No Risk" policy, contact the Vibration Division of PCB Piezotronics, Inc., toll-free, at 888-684-0013; E-mail: vibration@pcb.com; or fax at 716-685-3886. For other PCB products, contact PCB directly at 716-684-0001, or visit our web site at www.pcb.com.

PCB and ICP are registered trademarks of PCB Group Inc.

PCB PIEZOTRONICS, INC. - VIBRATION DIVISION
3425 Walden Avenue, Depew, New York 14043-2495 USA
Toll Free: 888-684-0013 Fax: 716-685-3886
24-hour SensorLineSM: 716-684-0001
E-mail: vibration@pcb.com
Web site: www.pcb.com
ISO 9001:2000 Certified
A2LA Accredited to ISO 17025

CONTACTS:

MEDIA INQUIRIES/SALES LEADS
Andrea Mohn
Marketing Coordinator
PCB Piezotronics, Inc.
3425 Walden Avenue
Depew, NY 14043-2495 USA
(800) 828-8840 ext. 2216
Fax: (716) 684-0987
E-Mail: mktg@pcb.com

TECHNICAL
Mark Valentino
Acoustics Product Manager
Vibration Division
3425 Walden Avenue
Depew, NY 14043-2495 USA
(888) 684-0013 ext. 2437
Fax: (716) 685-3886
E-Mail: mvalentino@pcb.com

More from Electrical Equipment & Systems