Preamplifier features built-in, 20 Hz high-pass filter.
Press Release Summary: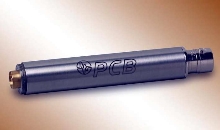 Featuring pre-polarized design, Model 426A10 is a ½ in. preamplifier that operates from ICP® sensor power. Built-in filter minimizes unwanted low frequency sounds that may saturate analyzer. Unit terminates in BNC connector and uses standard coaxial cable. Operating temperature is -40 to +80°C.
---
Original Press Release:
Preamplifier with High-Pass Filter

May 10, 2005, Depew, NY - The Vibration Division of PCB Piezotronics, Inc. introduces a new model to its line of acoustic products. Model 426A10 is a 1/2" preamplifier that operates from ICP® sensor power. The distinguishing feature for this preamplifier is the built-in 20 Hz high pass filter. This filter can improve resolution by minimizing unwanted low frequency sounds that may saturate the analyzer. The operating temperature on this new unit has been enhanced to -40° C to +80° C. The 426A10 has low noise specifications and great phase characteristics. The 426A10 terminates in a BNC connector and uses standard coaxial cables.

This modern, prepolarized design allows for significant savings in power supplies and cabling, greater ease-of-use and operates from the same power required for ICP® accelerometers. This provides the advantage of using microphones with ICP® accelerometers in the same test, with the same signal conditioning equipment, and minimizes set-up time.

For additional information, contact the Vibration Division of PCB Piezotronics, Inc. toll-free at 888-684-0013 (in the U.S. and Canada); E-mail: vibration@pcb.com; or fax at 716-685-3886. For other PCB products, contact PCB directly at 716-684-0001, or visit our web site at www.pcb.com.

CONTACTS:

General / Sales Leads:

Andrea Mohn
Marketing Coordinator

PCB Piezotronics, Inc.

3425 Walden Avenue

Depew, NY 14043-2495

(800) 828-8840 ext. 2216

Fax: (716) 684-0987

E-Mail: mktg@pcb.com

Technical:

Mark Valentino

Product Manager

Vibration Division

3425 Walden Avenue

Depew, NY 14043-2495

(888) 684-0013 ext. 2437

Fax: (716) 685-3886

E-Mail: mvalentino@pcb.com
More from Electrical Equipment & Systems