Pre-Preg Thermoset Composite suits slot cell insulation.
Press Release Summary: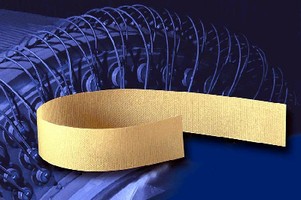 Composed of electrical grade epoxy resin combined with woven glass substrate, NP511B can be molded in conjunction with abrasion-resistant substrates such as Kevlar(TM) or Nomex(TM) to minimize or eliminate surface wear damage to copper and steel components in generators. Non-brominated resin system offers mechanical strength at temperatures to 170°C. When cured properly, NP511B retains half of its room temperature flexural strength at temperatures to 150°C.
---
Original Press Release:

Norplex-Micarta Announces New Pre-Preg Thermoset Composite for Slot Cell Insulation



POSTVILLE, IA - Norplex-Micarta, the leader in high performance thermoset composites, announces NP511B, a pre-preg thermoset composite material used for slot cell insulation, steel coating, and other high temperature applications. NP511B can be molded in conjunction with abrasion-resistant substrates such as Kevlar(TM) or Nomex(TM) to reduce or eliminate surface wear damage to copper and steel components in generators. The resulting custom composite offers long life in wear applications without the risk of damage to sensitive equipment due to abrasion-generated dust particles.

NP511B is composed of an electrical grade epoxy resin combined with a woven glass substrate. Its non-brominated resin system offers high mechanical strength at temperatures up to 170°C. When cured properly, NP511B retains half of its room temperature flexural strength at temperatures up to 150°C.

NP511B is one of many pre-preg products offered by Norplex-Micarta for customer molding applications. Products feature long life, excellent mechanical and electrical insulation properties in the finished laminate, and superior creep resistance.

The power generation industry relies on high temperature pre-pregs that can endure extreme heat and mechanical conditions. Physical properties include resilience at elevated temperatures; tensile, compressive, shear, and flexural strength; creep resistance; abrasion resistance; and electrical insulation properties.

About Norplex-Micarta
Norplex-Micarta is the leading manufacturer of high performance thermoset composites. Norplex-Micarta's vast product line serves power generation, military/aerospace, oil & gas, medical devices, electrical devices, electronics assembly, construction, heavy industry, and transportation markets throughout Europe, Asia/Pacific, and The Americas. Norplex-Micarta is located at 665 Lybrand Street, Postville, IA 52162; Tel: 563-864-7321; Fax: 563-864-4231; E-mail: info@norplex-micarta.com; Web: www.norplex-micarta.com.

For more technical information, contact:
Alan Johnson, Director of Business Development
NORPLEX-MICARTA
665 Lybrand Street
Postville, IA 52162 USA
TEL: +1 563-864-4275; FAX: +1 563-864-4231
EMAIL: ajohnson@norplex-micarta.com

More from Agricultural & Farming Products