Pre-poured Plates aid water supply management.
Press Release Summary: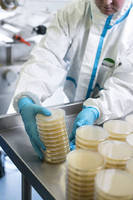 Part of Pinnacle™ brand of pre-poured plates, mLGA (membrane Lactose Glucuronide Agar) provides selective chromogenic medium for simultaneous enumeration of Escherichia coli and coliforms in drinking water using single membrane filtration technique. Range also includes variety of products for detecting coliforms, for isolation of enterococci, for Legionella detection, and for performing total viable counts.
---
Original Press Release:

Water Testing Medium is One of First Products in Lab M's New Pinnacle(TM) Range of Pre-poured Plates



Heywood, UK:  In a move that marks a significant extension to its range of ready prepared microbiological culture media, Lab M has launched the Pinnacle™ brand, a new line of pre-poured plates. One of the first products in this range is mLGA (membrane Lactose Glucuronide Agar), a selective chromogenic medium for the simultaneous enumeration of Escherichia coli and coliforms in drinking water using a single membrane filtration technique.



Lab M's mLGA is a modification of membrane Lauryl Sulphate Broth, traditionally used for isolating  coliforms (including E. coli) from water that is potentially contaminated with sewage. mLGA is designed to lower costs by reducing the number of filters used per test sample.  By making it available as a pre-poured plate, Lab M adds a further level of convenience to water testing.



Pinnacle™ mLGA is part of a portfolio of media offered by Lab M to aid water supply management. The range includes a variety of products for detecting coliforms, for the isolation of enterococci, for Legionella detection, and for performing total viable counts - a portfolio that helps ensure reliable results and compliance with evolving standards.



Pinnacle™ brings together Lab M's extensive experience and expertise in the development, manufacture and supply of dehydrated culture media (DCM) and the expanded plate pouring capabilities at the company's new UK headquarters. The result is a unique combination of proven, high quality DCM prepared as ready-to-use plates by the manufacturer, under a stringent quality management system in a GMP environment.



"Our move to new premises in 2012 gave us greatly expanded cleanroom facilities and significantly enhanced plate pouring capacity, all operating within a strictly controlled GMP environment. Pinnacle™ is the result and we've chosen the brand name to reflect our belief that as a DCM manufacturer pouring our own media  the quality will be the best it can possibly be," said Ian Morris, Lab M's Managing Director. "Our DCM products are used around the world by commercial plate pourers, and here at Lab M we too have always poured a selected range of media for individual customers and for specific applications."



As well as further commercialising its plate pouring capabilities, Lab M continues to offer a highly flexible service that enables the company to tailor media to meet a customer's specific needs. The team is skilled in delivering to non-standard specifications, including the production of deep-filled plates.



For further details on the Pinnacle™ range go to www.labm.com.  To discuss custom applications please contact Lab M on +44 161 820 3833.



About Lab M

Lab M is a long established company specialising in the development and production of microbiological diagnostic products. It has an international reputation for the high quality of its wide range of culture media, supplements and additives, and for the excellence of its technical support. www.labm.com

 

For further information

Chris Wolfenden

Marketing Communications Co-ordinator

Lab M Ltd, 1 Quest Park,                                             

Moss Hall Road, Heywood,                                                                        

Lancashire, BL9 7JJ, UK                                                

Tel:  +44 (0)161 820 3833

Fax:  +44 (0)161 820 5383

Email: info@labm.com

More from Agricultural & Farming Products