Pre-Machined Insulator Sheets suit standard mold bases.
Press Release Summary: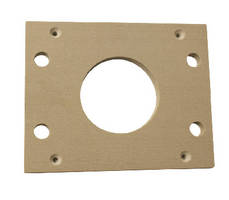 Available in ¼ or ½ in. thicknesses, Insulator Sheets are used on molds and dies between top clamping plate and stationary platen and between bottom of ejector housing and movable platen. Made of asbestos-free material with max service temperature of 550°F, sheets include pre-machined locating ring clearance hole, assembly screw clearance holes, and mounting holes. Thermal insulating properties of glass-reinforced polymer composite inhibit heat transfer from mold to platen or from platen to mold.
---
Original Press Release:

Moldmakers Save Time, Labor Costs with New Pre-Machined Insulator Sheets from DME



Improved material helps conserve energy, prolong machine life in high-temperature applications



Madison Heights, Mich. — Moldmakers can now benefit from reduced labor costs with a new line of pre-machined high-temperature Insulator Sheets from DME. The Insulator Sheets, designed for standard mold bases, have the highest level of pre-machined features in the marketplace with locating ring clearance hole, assembly screw clearance holes, and insulator sheet mounting holes all pre-machined.



By pre-machining the sheet to this extent, DME saves moldmakers labor, time and machine wear, enabling them to focus their shop time on what they do best: high-value machining of core and cavity plates.



"DME continues to work to provide value-added, time-saving enhancements across our product lines," said John Harding, Manager, Global Sourcing. "These improvements are another way we're serving as an essential resource to our customers, allowing them to save time and money and be more competitive in the global marketplace."



The newly enhanced sheets are made of high-compression-strength, asbestos-free material with a maximum recommended service temperature of 550° F, making them ideal for high-temperature applications. The thermal insulating properties of the glass-reinforced polymer composite material inhibit heat transfer from the mold to the platen, or from the platen to the mold (depending on the application), conserving energy and prolonging machine life.



The Insulator Sheets are used on molds and dies between the top clamping plate and the stationary platen and between the bottom of the ejector housing and the movable platen. The new line of Insulator Sheets also has been designed 1/16 inch shorter on all sides to prevent damage during mold handling. They are available in standard 1/4-inch or 1/2-inch thicknesses, while custom sizes and machining are available upon request.



Customers can browse DME's newly enhanced online catalog and order components 24 hours a day by visiting www.dme.net, and get free shipping for all small or lightweight products ordered online.



About DME Company

DME Company is an essential mold technologies resource to customers worldwide. Through aggressive new product development, global product standardization and a powerful combination of in-house manufacturing centers of excellence and strategic global partnerships, DME is helping customers succeed in changing times. The company's standard-setting, comprehensive product line — including hot runner systems; control systems; mold bases and components and mold making and molding supplies — is backed by expert technical service every step of the way. DME also manufactures and sells standard tooling for the die-casting industry. Visit www.dme.net for more information.

More from Electronic Components & Devices