Pre-Insulated A/C Linesets accommodate pressures to 600 psi.
Press Release Summary: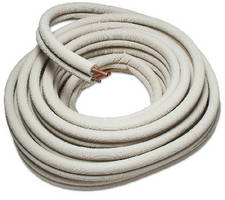 Available in 65 ft rolls of either ¼ and 3/8 in. diameter or ¼ and ½ in. diameter copper liquid/suction line sizes, Paircoil™ Malleable Linesets expedite installation of ductless mini-split and conventional air-conditioning systems. Industrial-grade insulation features UV- and wear-resistant coating with non-frictional surface to facilitate pulling. White insulation reflects solar heat, is water-resistant, and features hardened, but ductile surface that allows bending without kinking.
---
Original Press Release:

RectorSeal Introduces Time-Saving Paircoil-- Pre-insulated, Linesets for A/C Systems



Paircoil features a durable industrial-grade insulation with a UV light and wear-resistant embossed coating and a non-frictional surface for easy pulling.



RectorSeal® Corp., Houston,  a leading manufacturer of quality HVAC/R products, introduces Paircoil™, pre-insulated, malleable linesets designed specifically to expedite installations of ductless mini-split and conventional air-conditioning systems in North America.



Paircoil is sold in 65-foot (20-meter) rolls of either 1/4 (6.35-mm) and 3/8-inch-diameter (9.52-mm); or 1/4 and 1/2-inch-diameter (12.7-mm) copper liquid/suction line sizes. Paircoil's durable industrial-grade insulation features a UV light and wear-resistant coating with a non-frictional surface making it easy to pull. It also features embossed incremental one-meter inscriptions for hands-free measuring. The competitively-priced Paircoil's white insulation efficiently reflects solar heat, is water-resistant, and features a hardened, but ductile surface. Unlike the industry standard of black, spongy and easily-torn foam insulation, it doesn't absorb moisture or prematurely disintegrate from UV light or freeze/thaw cycles.



Paircoil other features include:




Ductility allows bending, shaping and forming without kinking;



Thin 3/8-inch (9.52-mm) insulation thickness allows space with all lineset protection ducting such as Fortress™ and SlimDuct®.



Accommodates operating pressures of up to 600-psi.



Comes with straight, plain ends;



Meets ASTM-International specification standards B280 seamless copper tube for air-conditioning and refrigeration field service; and C534 for preformed flexible, elastomeric cellular thermal insulation;



Packaged in a fully-illustrated sturdy, protective cardboard carton that's easily multi-stacked without lineset damage;



Easily decoupled without cutting tools for reaching separated terminal connections;



Available through all major HVAC wholesale distributors;



The addition of Paircoil makes RectorSeal a comprehensive line of ductless mini-split air conditioning installation accessories offering everything except the air conditioning unit itself. RectorSeal offers the following air-conditioning installation support products that are all backed by RectorSeal's customer and technical support departments:




condenser equipment mounts and brackets;



condensate gravity drain hoses and traps;



Aspen condensate pumps;



Novent®  and GasGuard™ IMC and IRC code-mandated locking refrigerant caps for Schraeder valves;



Safe-T-Switch®  and AquaGuard® condensate shut-off switches;



ACTabs™ condensate pan biocides;



Goliath™ and Titan™ plastic condensate pans;



Fortress and SlimDuct lineset protection ducts;



NoKink™ connectors for easier lineset connection to evaporators;



For additional information, visit www.rectorseal.com email: marketing@rectorseal.com; or call 800-231-3345.



About RectorSeal: The RectorSeal® Corporation is a leading manufacturer of chemical and specialty products designed for professional tradesmen. Steady growth over the years has been maintained through a commitment to providing high quality products and services. With a diversified business strategy, RectorSeal aggressively pursues new and unique technologies to serve the plumbing, heating, air conditioning, electrical and construction industries. The RectorSeal Corporation is devoted to providing innovative quality products supported by strong customer and technical service. For more information,  visit www.rectorseal.com, email marketing@rectorseal.com or call (800) 231-3345.











More from Explosives, Armaments, and Weaponry