Pre-Formed Window Glazing Compound for Glass Application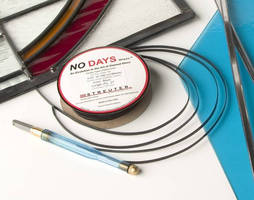 Multipurpose glazing adhesive compound (NO Days Glaze(TM)) originally designed for bonding and sealing lead and zinc came to glass for stained glass window application has use for storm window, general window and glass bonding application. NO Days Glaze is manufactured in 7 Pre-Formed widths to fit a variety of glass thicknesses (from 1/8" to 1/4"). NO Days Glaze is a heat activated glazing compound that is easily cured at a temperature of 160°F/71°C with either a standard heat gun or for quicker assembly: the NDG Window Curing Station(TM). NO Days Glaze creates a no-mess and quick curing approach for stained glass windows, storm windows, general window assembly and glass bonding. NO Days Glaze is easily re-workable after curing by simply re-heating and re-positioning your glass.

NO Days Glaze does not outgass making it an ideal glazing solution for double glaze or triple glaze glass designs. The bonding capability of NO Days Glaze creates a stronger and more rigid window due to its unique formulation and ability to expand and contract over time with glass, wood and metals. NO Days Glaze eliminates "glass rattling" traditionally found when using other sealing or glazing compounds. NO Days Glaze creates a watertight seal keeping moisture out.

In addition to its strength and sealing capabilities, NO Days Glaze offers reduced assembly through quick cure times of only 5 minutes packaged with a no-mess approach due to its pre-formed shape.

NO Days Glaze is available in continuous rolls of 25ft, 50ft, 100ft and 250ft in either black, pewter or clear. Heat Guns and NDG Window Curing Stations also available. Custom pre-formed glazing strip widths available along with custom melt point formulations.

Streuter Technologies, Inc. has been manufacturing proprietary temperature engineered adhesive films and glazing comopunds since 2005 aimed towards glass application and glass assembly methods.

More from Machinery & Machining Tools