Pre-Filter Separator cleans diesel fuel systems.
Press Release Summary: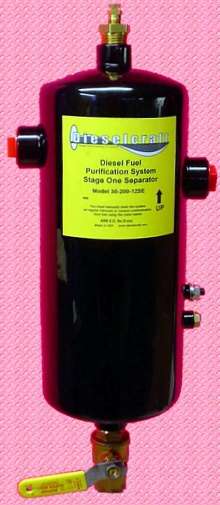 Fuel Purifier deals with raw contaminants that lead to degradation, oxidation, and repolymerization of fuel. Single-step unit removes 99% of water and 95% of dust, dirt, and other contaminates found in all diesel fuel. Product cleans fuel without use of replaceable, changeable, or cleanable filter elements by continually pre-filtering and polishing fuel. There are 7 models available with flow rates from 5-2,500 gph.
---
Original Press Release:

Pre-Filter Separator Cleans Diesel Fuel System without Filters


Diesel Fuel Purification

It is estimated that eight out of every ten diesel engine failures have been directly related to contaminated fuel. The build-up of contaminates in the fuel systems and storage tanks can quickly clog filters, thus resulting in engine shut down, fuel pump wear, and diesel engine damage.

Understand that most fuel has some amount of water in it from either condensation or vents. This threat requires that we realize the added burden placed upon diesel fuel as opposed to gasoline. Gasoline acts as a fuel only. Diesel fuel must cool and lubricate injection system parts. These parts are engineered to very close tolerances - up to 0.0002 of an inch - and any contamination means rapid part wear. Water displaces the diesel fuel. When the fuel is displaced wear occur because lubrication is now absent.

Water that enters the combustion chamber results in even more serious damage. When it comes in contact with the heat of the combustion chamber (in excess of 2000 degrees F), it immediately turns to steam and often explodes the tip of the injector. Water causes corrosion of tanks, lines, injectors, and greatly reduces combustibility.

Fuel problems will eventually cause engine smoke, the loss of power, carbon buildup and premature engine failure. Fuel filters that do not last over 500 hours are an indication of fuel problems. But many users simply change the filters and pour in another chemical additive.

Dieselcraft Fluid Engineering of Auburn, CA has developed a new and more advanced Pre-Filter Separator to deal with the basic raw contaminants that lead to degradation, oxidation and repolymerization of the fuel in as little as 30 days after the fuel is refined.

The Dieselcraft Fuel Purifier is a simple one step unit that removes 99% of the water and 95% of dust, dirt, and other contaminates found in all diesel fuel. Tests indicate that over 50% of contaminants that are as small as 5 microns are removed in the first pass through the Fuel Purifier

The Fuel Purifier delivers cleans fuel without the use of a replaceable, changeable, or cleanable filter element.

Contamination is immediately removed before the fuel enters the engine's filter system. The purifier delivers much cleaner fuel, eliminating filter clogging and greatly reducing maintenance costs.

The fuel return percentage of most diesel engines allows high rate of re-circulating of the fuel. This is what allows the purifier to remover more contamination pass after pass before the fuel gets to the filters. This continual pre-filter and polishing of the fuel is what keeps it stabile, sludge and acid free and tanks clean.

The Dieselcraft Fuel Purifiers are supplied in seven models ranging from 5 gallons per hour flow rates to 2500 gallons per hour. The most common units are: Model 5-29SE for engines with fuel pump capacities from 5-29 GPH and ¼" fuel lines, and Model 30-200SE for engines with fuel pump capacity of 30-200 GPH and 3/8" or ½" fuel lines.

For further product information see the Dieselcraft web page at: www.dieselcraft.com or contact

Dieselcraft / The Magnum Group
PO BOX 7670
Auburn, CA 95604
1-877-823-7075
sales@dieselcraft.com

Dieselcraft is currently seeking dealers in many areas.

They should contact John T. Nightingale, Sales Manager at 1-877-823-7075 or sales@dieselcraft.com

John T. Nightingale
Dieselcraft Fluid Engineering
Division of The Magnum Group
PO BOX 7670
Auburn, CA 95604 USA
Telephone 530-823-7075
FAX 530-823-7078
Cell 530-613-2150
www.dieselcraft.com

More from Material Handling & Storage