Pre-Engineered Robotic Welding Cell facilitates automation.
Press Release Summary: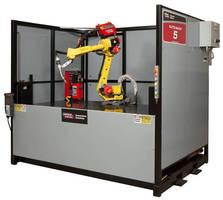 Auto-Mate™ accelerates and facilitates implementation of automated welding for manufacturers and job shops. While single-zone Auto-Mate 5 is suitable for welding medium-sized to larger parts, 2-zone Auto-Mate 10 accommodates processes that include smaller parts. Regarding latter, robot can weld on one side while operator handles parts on other. Both cells enable MIG and flux-cored welding processes performed by Fanuc® Arc Mate® 0iB robot driven by Power Wave® R350 power source.
---
Original Press Release:

Lincoln Electric Introduces Affordable Robotic Welding Cells for Manufacturers or Job Shops



New, pre-engineered solution delivers all the benefits of automated welding



Cleveland — The Lincoln Electric Company has provided a new solution for the first-time buyer in welding automation – the Auto-Mate™ pre-engineered robotic welding cell. These affordable cells enable the new buyers to quickly and easily implement automated welding.



"We are pleased to offer an even more affordable solution to manufacturers or job shops who are thinking about automating their welding process for the first time," said Justin Percio, general manager of automated systems, Lincoln Electric. "And, we've created these cells to be delivered in two to four weeks, so buyers can make a capital equipment decision and quickly reap the benefits of automation."



The Auto-Mate pre-engineered cells – Auto-Mate 5 and Auto-Mate 10 – create an easy entry point for first-time buyers and an affordable stepping stone to a more elaborate and sophisticated system further down the line.



Auto-Mate 5 is a single-zone cell suitable for welding medium-sized to larger parts.



Auto-Mate 10 is a two-zone cell, but with the same footprint as the Auto-Mate 5. If your process includes smaller parts, the robot can weld on one side while the operator handles parts on the other.



Both cells enable MIG and flux-cored welding processes performed by a Fanuc® Arc Mate® 0iB robot driven by a Lincoln Electric Power Wave® R350 power source. The Power Wave software controls and monitors welding processes to deliver optimized welds for any steel, stainless steel or aluminum applications, while simultaneously delivering production data on the operations. This enhances quality and productivity – two vital components that make the small business bigger and more competitive. 



The Auto-Mate line is engineered for the first-time user of robotic systems with an affordable list price of $59,999. The setup and programming procedures are intuitive and user friendly. There is also standard, three-day training available at no cost in Cleveland so the buyer can quickly start operations.



For more information about the Auto-Mate line, visit www.lincolnelectric.com or call 888.935.3878.



Lincoln Electric is the world leader in the design, development and manufacture of arc welding products, robotic arc welding systems, plasma and oxy-fuel cutting equipment and has a leading global position in the brazing and soldering alloys market. Headquartered in Cleveland, Ohio, Lincoln has 48 manufacturing locations, including operations and joint ventures in 19 countries and a worldwide network of distributors and sales offices covering more than 160 countries. For more information about Lincoln Electric and its products and services, visit the company's website at www.lincolnelectric.com.



Media Contacts:

Robin Suttell – rsuttell@fallscommunications.com or 216.696.0229

Greg Coleman – greg_coleman@lincolnelectric.com or 216.383.2462

More from Services