Pre-Driver IC targets high-power automotive applications.
Press Release Summary: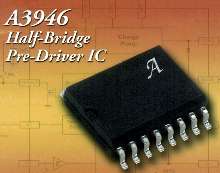 Model A3946 half-bridge IC provides 2 high-current gate-drive outputs capable of driving power N-channel MOSFETs. Internal charge pump for high side allows for DC operation of half bridge. Supplied in 16-lead SOIC with copper batwing power tabs, IC offers extended operating voltages of 7-60 V and operating temperatures of -40 to +135°C. It includes diagnostic detection and reporting, and is suited for applications requiring high power, unidirectional DC motors and other inductive loads.
---
Original Press Release:

Allegro Microsystems, Inc. Announces Half-Bridge Pre-Driver IC Targeted at High-Power Automotive and Industrial Loads


DESCRIPTION

The A3946 was designed specifically for applications that require high power unidirectional DC motors and other inductive loads. The A3946 provides two high-current gate-drive outputs capable of driving a wide range of power N-Channel MOSFETs. The high-side gate driver can switch an N-Channel MOSFET that controls current to the load via an externally supplied PWM signal while the low-side gate driver can switch an N-Channel MOSFET as a synchronous rectifier.

A bootstrap capacitor is utilized to provide the above-battery supply voltage required for N-Channel MOSFETs. An internal
charge pump for the high side will allow for DC (100% duty cycle) operation of the half bridge. The A3946 is supplied in a 16-Lead SOIC with copper batwing power tabs, (suffix 'LB').

Allegro's A3946 is designed with flexibility in mind. This pre-driver IC can be used to drive brush DC motors, brushless DC
motors (BLDC), switched reluctance motors (SR), and any other large inductive load. Versatile input control logic allows independent control of the high and low-side gate drive outputs or the part can be configured to work with a single externally supplied PWM signal. In this configuration, the A3946 controls the current to the load by switching (via externally supplied
PWM) the high-side N-Channel MOSFET. The low side gate driver is turned on during the PWM off-time and acts as a synchronous rectifier. Extended operating voltages (7 V to 60 V) and temperatures (-40 C to +135°C), plus diagnostic detection and reporting, make the A3946 a perfect choice for automotive applications.

FEATURES and BENEFITS

o Integrated charge pump
Eliminates need for external charge-pump for driving all N-ChanneL MOSFETs
o Operating voltage range (Vbb) from 7 V to 60 V
- Works in wide range of applications
- Automotive 14 V and 42 V systems
- Industrial systems up to 60 V
o Ability to drive reverse battery FET from A3946 charge pump
Easy and cost-effective reverse battery implementation
o Fault diagnostics and reporting
Reports short-to-battery, short-to-ground, and other critical fault conditions
o RESET pin for sleep function
Very Low quiescent current in sleep mode
o Flexible input logic
Allows use in variety of PWM applications
o Wide operating temperature range (-40 °C to +135 °C)
Useable in variety of automotive under-hood applications

Samples and full datasheets are available at www.allegromicro.com

A unique feature of the A3946 is the flexibility of the two inputs. These can either be tied together to allow for a single PWM input signal, or they can be driven independently to provide direct control over the high-side and low-side gate drive outputs. In the single PWM input mode the cross-conduction dead time is determined by the value of an external resistor. When driving the two inputs independently, the system controller determines the cross-conduction dead time.

A bootstrap capacitor is utilized to provide the above-battery supply voltage required for N-Channel MOSFETs. An internal charge pump for the high side will allow for DC (100% duty cycle) operation of the half bridge.

The A3946 is manufactured using Allegro's ABCD3 (Allegro Bipolar CMOS DMOS 3rd generation) process, and is supplied in a batwing 16-lead SOIC. This half-bridge pre-driver IC is targeted to meet the needs of the automotive and industrial markets. The A3946 has a 10-12 week lead-time to market and is priced at $0.85 per part for quantities of 1,000.

Allegro MicroSystems, Inc. is a supplier of advanced mixed-signal power semiconductors and Hall-effect sensors targeted toward the automotive, communications, computer/office automation, consumer and industrial markets. It maintains a leadership position in the integrated magnetic sensor and integrated motor driver product segments. With over 2,000 employees, Allegro is headquartered in Worcester, MA. Further information about Allegro can be found at www.allegromicro.com

More from Sensors, Monitors & Transducers