Pre-Analytical System automates sample management in labs.
Press Release Summary: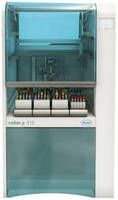 Capable of throughput rates up to 450 tubes/hr, cobas p 312 pre-analytical system performs sample registration, sorting, decapping, and archiving of all sample tubes - chemistry, immunoassay, hematology, coagulation, urinalysis - for entire laboratory (including non-Roche equipment). This stand-alone, front-end automation system offers vendor-neutral sample management for labs with limited floor space.
---
Original Press Release:

Roche Introduces cobas p 312 Pre-Analytical System as Compact, Front-End Automation Solution for Sample Management in US and Canada



System provides comprehensive sample management, helps improve workflow efficiency via very small footprint

INDIANAPOLIS -- Roche (SIX: RO, ROG; OTCQX: RHHBY) announced today the launch in the U.S. and Canada of the cobas p 312 pre-analytical system, a front-end automation solution that offers comprehensive, vendor-neutral sample management for labs with limited floor space. The compact, stand-alone system performs sample registration, sorting, decapping and archiving of all sample tubes--including chemistry, immunoassay, hematology, coagulation and urinalysis--for the entire laboratory, including non-Roche equipment. With a throughput of up to 450 tubes per hour, the system is ideal for customers who are looking for an entry-level step into automation for pre-analytical workflow.

"Labs are looking for greater testing efficiency, and automation is one of the key ways to get there," said Joe Crowley, senior vice president, Professional Diagnostics-Hospital, for Roche Diagnostics Corporation. "By offering powerful pre-analytical automation on a small footprint, this new system makes it easier for all labs to access the benefits of automation and help improve their efficiency and productivity."

With the introduction of the cobas p 312 pre-analytical system, Roche now offers a complete portfolio of automated sample management solutions for laboratories of all sizes: connected automation with MODULARPRE-ANALYTICS and the cobas p 501 and cobas p 701 sample storage and retrieval modules and non-connected solutions with the cobas p 312, cobas p 512 and cobas p 612 pre-analytical systems.

About Roche

Headquartered in Basel, Switzerland, Roche is a leader in research-focused healthcare with combined strengths in pharmaceuticals and diagnostics. Roche is the world's largest biotech company with truly differentiated medicines in oncology, virology, inflammation, metabolism and CNS. Roche is also the world leader in in-vitro diagnostics, tissue-based cancer diagnostics and a pioneer in diabetes management. Roche's personalized healthcare strategy aims at providing medicines and diagnostic tools that enable tangible improvements in the health, quality of life and survival of patients. In 2011, Roche had over 80,000 employees worldwide and invested over 8 billion Swiss francs in R&D. The Group posted sales of 42.5 billion Swiss francs. Genentech, United States, is a wholly owned member of the Roche Group. Roche has a majority stake in Chugai Pharmaceutical, Japan. For more information: www.roche.com or www.roche-diagnostics.us.

COBAS is a trademark of Roche. All trademarks mentioned in this release are protected by law.

For further information, please contact:

Jennifer Zinn
Vice President, Commercial Education and Communications
Roche Diagnostics Corporation
Indianapolis, Indiana USA
(317) 521-2819
jennifer.zinn@roche.com

Melanie Lussier
Manager, Communications
Roche Diagnostics Canada
Laval, Quebec, Canada
(450) 686-3137
melanie.lussier@roche.com

Related