PPI and OMS Group to Highlight Automotive Manufacturing Solutions at 2017 Foam Expo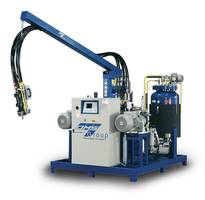 GREENSBURG, PA – Polyurethane Process Industries, LLC, and Impianti OMS S.p.A. will feature manufacturing solutions for the automotive industry in Booth 206 at the 2017 Foam Expo in Michigan.
Taking place February 28 - March 2 in Novi, a suburb of Detroit, Foam Expo is North America's first free-to-attend exhibition and conference for the manufacturers and buyers of technical foam materials, products and services.
"Customers are familiar with our equipment for producing insulated panels for the refrigeration and construction industries," said Mark Clark, general manager of Polyurethane Process Industries (PPI). "But we also offer complete plants and systems for manufacturing parts used in the automotive, medical and aerospace industries."
PPI supplies equipment, parts and technical support for cost-effective production of flexible, rigid and elastomeric polyurethane products. The Pennsylvania company is the exclusive U.S. distributor of polyurethane processing equipment made by Impianti OMS SpA, the Italian manufacturer also known as OMS Group.
"We want to show some of OMS Group's recent technology innovations for parts and device manufacturers who need the lighter weight, load-bearing or sound-absorbing properties associated with polyurethane," Clark said.
OMS Group recently developed and installed innovative technology to manufacture:
• Resilient, lightweight parts with excellent load-bearing and acoustical properties for automotive and medical device industries. The new ECOMASTER MD RIM machine precisely meters two polyurethane components and a mineral filler, such as calcium carbonate or expandable graphite, directly into the mixing head by way of an additional hydraulically actuated metering cylinder. Both the cylinder and mixing head are designed to resist the corrosiveness of mineral fillers.
• Different sizes and shapes of car filters with zero downtime for mold changes. OMS recently installed a system that produces up to 500 filters per hour with mixed filter models thanks to a "rapid-hook system" on the 36-press carousel that permits mold changes during the normal automatic production cycle. The production line also includes an integrated automatic mold release spray system with a six-axis robot, release agent feeding and spray units.
• Large DCPD parts for trucks and tractors. PPI recently supplied a specially designed OMS ECOMASTER 200/400 reaction injection molding (RIM) machine to make 50-pound truck hoods. The unit delivered a low-viscosity, liquid molding resin at shot sizes up to 5,000 grams/second to two high-pressure mixing heads without nucleation or bubbles.
• High-quality, low-density, sound-absorbing panels for automotive headliners and other parts. OMS recently designed and built a new discontinuous foam system that meters four chemical components, including a solid in the form of a powder. The low-pressure system produces block foam with very low density of 15 kg per cubic meter.
"The demand is never-ending for new materials and manufacturing methods in almost every sector of polyurethane processing," Clark said. "We're happy to be at the forefront of offering solutions to these challenges."
PPI technical experts also will be on hand at the Foam Expo to discuss the latest technology for processing with newer blowing agents and flame retardants. Besides polyurethane processing equipment, PPI supplies blending and transfer systems for HFO and hydrocarbon blowing agents, as well as other chemical materials and additives.
About Polyurethane Process Industries, LLC
PPI is the exclusive U.S. distributor of polyurethane foam equipment manufactured by Impianti OMS S.p.A. The southwestern Pennsylvania sales and service company has provided high-quality, low-cost equipment, parts, repairs, service and engineering assistance to North American polyurethane manufacturers since 2004. PPI supplies new bulk chemical storage and polyurethane manufacturing systems, as well as rebuilt and modified equipment, to the automotive, refrigeration, heating and ventilation, transportation, construction, recreation, furniture and healthcare industries.
For more information contact:
Mark Clark,
General Manager,
Polyurethane Process Industries, LLC
1628 Roseytown Road, Suite 7,
Greensburg, PA 15601-7584
Phone: (724) 691-0551
Cell: (724) 244-6698
Fax: (724) 691-0696
Email: mclark@pu-process.com
Website: www.pu-process.com