PowerScan™ 9100 Scanner Series come with RS232 and USB connections.
Press Release Summary: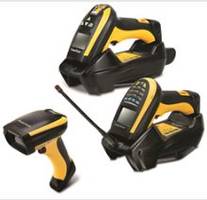 PowerScan™ 9100 Scanner Series are available in corded desk and cordless models featuring Datalogic STAR Cordless System™ proprietary radio or Bluetooth® wireless technology. Products are suitable for manufacturing, distribution and logistics centers applications. Units offer ability to read LCD screens on mobile devices, drop resistance to 2.0m/6.6ft and reading capability of up to 2.5 mils. Scanner is equipped with Datalogic's 3GL™ and embedded with Aladdin™ configuration program.
---
Original Press Release:
Datalogic Announces the PowerScan 9100 Industrial Scanner Series
A rugged linear imager with Datalogic's innovative green 'laser-like' acquisition system
Datalogic, a global leader in automatic data capture and industrial automation markets, introduces the newest member of the renowned PowerScan industrial scanner family, the PowerScan™ 9100 linear imager series. New innovative Datalogic technology provides a green scanning line delivering the same crisp definition of a laser line with the added benefits of a linear imager. The result is outstanding 1D decoding capability.
"The PowerScan 9100 series green scan line is a true illustration of Datalogic's commitment to ingenious designs that improve the workflow of our customers," states Diego Nieto Vine, Transportation and Logistics Industry Unit General Manager at Datalogic. "Its innovative technology delivers a crisp 'laser-like' green scan line from a pioneering miniaturized scan engine that offers exceptional reading abilities."
The PowerScan 9100 series shares the rugged, ergonomic housing of all PowerScan scanners that are built to offer durability in tough environs. These readers are available in a full suite of models to provide the best solution for different customer needs: corded desk models; cordless models featuring Datalogic STAR Cordless System™ proprietary radio or Bluetooth® wireless technology.
Multiple interface options are available; every unit offers keyboard wedge, RS232 and USB connections. Optional Ethernet, standard and industrial, is available on both wireless models. Further features include:
Ability to read LCD screens on mobile devices
Capability of decoding low contrasting bar codes up to 15% PCS, including damaged or poorly printed bar codes.
Reading capability of up to 2.5 mils
IP65 water and particulate sealing rating
Drop resistance to 2.0m / 6.6ft
Datalogic's 3GL™ for good read feedback
Datalogic Aladdin™ configuration program
User 3 second Lithium-ion battery replacement
Operates over a wide range of temperatures
Datalogic STAR Cordless System model offers point-to-point and multi-point transmission, seamless roaming
Bluetooth wireless technology mode offers Piconet with up to 7 scanners connected to one base
The PowerScan 9100 series of scanners are perfectly suited for use in manufacturing, shop floor, distribution and logistics centers.
Datalogic is a global leader in the automatic data capture and process automation markets, specialized in the designing and production of bar code readers, mobile computers, sensors for detection, measurement and safety, RFID vision and laser marking systems. Datalogic solutions help to increase the efficiency and quality of processes in the Retail, Manufacturing, Transportation & Logistics and Healthcare industries, along the entire value chain.
The world's leading players in the four reference industries use Datalogic products, certain of the attention to the customer and of the quality of the products that the Group has been offering for 45 years. Today Datalogic Group, headquartered in Bologna (Italy), employs approximately 2,700 staff worldwide, distributed in 30 countries, with manufacturing and repair facilities in the USA, Brazil, Italy, Slovakia, Hungary and Vietnam. In 2016 Datalogic had a turnover of 576.5 million Euro and invested over 50 million Euros in Research & Development, with an asset of more than 1,200 patents in multiple jurisdictions. Datalogic S.p.A. is listed in the STAR segment of the Italian Stock Exchange since 2001 as DAL.MI. More information about Datalogic at http://www.datalogic.com.
More from Thermal & Heating Equipment