Powered Vascular Stapler offers precision during thoracic surgery.
Press Release Summary: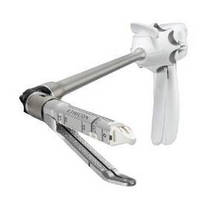 Optimized for precision and stability, ECHELON FLEX™ can be used for critical vessel transections. Curved, blunt, and narrow anvil, along with articulating shaft and placement tip, promote visibility, navigation, and precise placement during procedures. While allowed percentage of manual articulation in each direction promotes flexibility during final placement, design also minimizes tip movement during firing for less movement during transection.
---
Original Press Release:

New Powered Vascular Stapler from Ethicon Offers Greater Precision During Thoracic Surgery



ECHELON FLEXTM Powered Vascular Stapler with Advanced Placement Tip Provides Better Visibility, Navigation, Placement in Thoracic Surgery



SAN DIEGO -- Ethicon* has developed a new powered vascular stapler designed to provide greater precision and stability than currently available staplers for critical vessel transections. The new ECHELON FLEX(TM) Powered Vascular Stapler has the narrowest anvil of any stapler on the market(1), an articulating shaft and advanced placement tip that may allow for better visibility, navigation and precise placement during thoracic and other procedures, including VATS lobectomy (Video-Assisted Thoracoscopic Surgery) for lung cancer.



Ethicon is launching the ECHELON FLEX Powered Vascular Stapler in the U.S. today here at the opening of The Society of Thoracic Surgeons (STS) 51(st) Annual Meeting in Booth 301, where the company is featuring its portfolio of products that span access, repair and closure, including the ECHELON FLEX(TM) GST SYSTEM and HARMONIC ACE®+7 Shears with Advanced Hemostasis which may be used in thoracic procedures. DePuy Synthes Companies will join Ethicon in the booth with thoracic products that complement the Ethicon portfolio.



"Thoracic surgery is performed in restricted narrow spaces around delicate vascular anatomy ... This new powered thin lower profile stapler is designed to improve access, visibility and stability and delivers a secure, hemostatic staple line. It is a significant advance that may help surgeons avoid potential complications and improve patient outcomes," said Robert J. Cerfolio, MD, MBA, FACS, FCCP Professor, Division of Cardiothoracic Surgery and Section Chief of Thoracic Surgery at The University of Alabama at Birmingham (UAB).



ECHELON FLEX(TM) Powered Vascular Stapler

Compared to Endo GIA(TM) Curved Tip Reload with Tri-Staple(TM )Technology from the manufacturer Covidien, the ECHELON FLEX Powered Vascular Stapler has a curved, blunt anvil that is 26 percent narrower(1) and a shaft that is 26 percent thinner(2), offering the greatest angle of reach in the tight intercostal space. The new powered stapler also provides 11 percent greater manual articulation in each direction, allowing more flexibility during final placement than the competitor device.(3)



In addition, the ECHELON FLEX Powered Vascular Stapler allows 83 percent reduction in tip movement during firing for less movement during transection. Due to proximity of vital structures and limited space during a thoracic procedure, increased stability is critically important.(4)



"The ECHELON FLEX Powered Vascular Stapler is a linear stapler designed primarily for thoracic surgery with significant input from thoracic surgeons throughout the world," said Michael del Prado, Ethicon Group Chairman. "We are deeply committed to thoracic surgery and helping our customers around the world advance treatment through evidence-based solutions. Our commitment is to be the best partner we can through developing comprehensive clinical evidence, education, and innovative product and procedural solutions."



In addition to the ECHELON FLEX Powered Vascular Stapler, Ethicon offers the ECHELON FLEX GST SYSTEM, a powered stapler and reload system uniquely designed to provide a better grip on tissue for the least tissue slippage during firing5 and the HARMONIC ACE®+7 Shears with Advanced Hemostasis, the first purely ultrasonic device with a 7 mm sealing indication. These devices are part of Ethicon's procedural solution for thoracic surgery.



Ethicon continues to fund research to further the understanding of lung cancer treatment and advance procedural approaches. In 2012 alone, the company supported investigator studies on VATS that appeared in the journals Chest, Annals of Thoracic Surgery, Minimally Invasive Surgery and Journal of Thoracic and Cardiovascular Surgery. In addition, the company sponsors more than 30 thoracic training events each year and offers information resources and support for patients, surgical teams and hospital administration.



"We share a common goal with the thoracic community: improving outcomes for people with lung cancer," del Prado said.



According to the American Cancer Society, there were about 224,210 new cases of lung cancer and about 159,260 deaths from the disease in 2014. Lung cancer accounts for about 27 percent of all cancer deaths and is the leading cause of cancer death among both men and women.(6)



Ethicon held a satellite symposium from 7 p.m. to 10 p.m. on Sunday, January 25 at the San Diego Marriott Marquis & Marina during STS. "Tricks of The Trade: An Advanced VATS Video Review & Panel Discussion," featured speakers including Dr. Robert Cerfolio, University of Alabama, Birmingham (UAB); Dr. Robert McKenna, Cedars Sinai Medical Center, Los Angeles; Dr. Daniel Miller, WellStar Healthcare System, Marietta, GA; Dr. Diego Gonzalez-Rivas Coru-a Hospital, La Coruna, Spain; and Dr. Scott Swanson, Brigham and Women's Hospital, Boston.



DePuy Synthes Companies will feature a spectrum of thoracic solutions, including the Sternal ZIPFIX® System and Titanium Sternal Fixation System (TSFS). These systems are used to stabilize and promote fusion of the sternum following fracture or primary or secondary closure or repair, such as required during lobectomy for lung cancer. The company is also featuring the MatrixRIB(TM) Fixation System, which includes low-profile titanium alloy plates and screws for the fixation and stabilization of rib fractures, fusions, and osteotomies of normal and osteoporotic bone.



About Ethicon

Ethicon, Inc. and Ethicon Endo-Surgery, Inc., two companies with long histories of medical innovation, do business under the Ethicon brand. Their surgical technologies and products (including sutures, staplers, energy devices, clip appliers, trocars and meshes) are used around the world to treat colorectal and thoracic conditions, women's health conditions, hernias, cancer and obesity. Ethicon, Inc. and Ethicon Endo-Surgery, Inc. are part of the Johnson & Johnson Family of Companies. Learn more at www.ethicon.com, and follow us on Twitter @Ethicon.



About DePuy Synthes Companies

DePuy Synthes Companies of Johnson & Johnson provides the most comprehensive orthopaedic and neurological solutions in the world.  The company offers an unparalleled breadth of products, services, programs and research and development capabilities.  DePuy Synthes Companies' solutions in the specialties of joint reconstruction, trauma, neurological, craniomaxillofacial, thoracic, spinal surgery and sports medicine are designed to advance patient care while delivering clinical and economic value to health care systems worldwide.  For more information visit, www.depuysynthes.com.



MEDIA CONTACT:

Michelle Parker

Office: 513-337-3590

mparker5@its.jnj.com



*Ethicon represents the products and services of Ethicon, Inc. and Ethicon Endo-Surgery, Inc.

**Consultant to Ethicon



The third party trademarks used herein are trademarks of their respective owners.

ECHELON FLEX Powered Vascular Stapler is manufactured by Ethicon Endo-Surgery, LLC.



(1 )Versus leading staplers on the market as of Oct 2014.

(2) Approach angles assessed in a virtual CAD environment in the 5th intercostal space.

(3) Based on articulation data from IFUs of each device.

(4) Benchtop testing on porcine carotid arteries. Surgeons (n=24) fired each instrument/reload once: PSE45A / ECR45W and EGIAUSTND/ EGIA45AVM. Distal tip motion measurement during the firing cycle showed a median reduction of 83% and a range of reduction of 53% to 96% in tip movement of PSE45A/ ECR45W vs. EGIAUSTND/ EGIA45AVM.

(5) Benchtop testing in porcine stomach tissue.   Mean tissue movement from after clamping on tissue to after firing ECHELON FLEX(TM) Powered Plus Stapler (PSEE60A) and ECHELON Reload with GST vs ENDO GIA(TM) ULTRA Handle (EGIAUSTND) and Endo GIA(TM)  Reload with Tri-Staple(TM) Technology at 1.5, 2.5, 3.3 and 4.0mm tissue thicknesses (1.5mm; GST60B 1.067mm vs EGIA60AMT 2.452mm p<0.001; 2.5mm: GST60G 1.148mm vs EGIA60AMT 3.261mm p<0.001; 3.3mm: GST60T 0.642mm vs EGIA60AMT 4.806mm p<0.001; 4.0mm: GST60T 0.654mm vs EGIA60AXT 5.116mm p<0.001).  018980-140728

(6) http://www.cancer.org/cancer/lungcancer-non-smallcell/detailedguide/non-small-cell-lung-cancer-key-statistics; accessed Jan. 2015

More from Fluid & Gas Flow Equipment