Powered Cart Movers improve efficiency and protect workers.
Press Release Summary: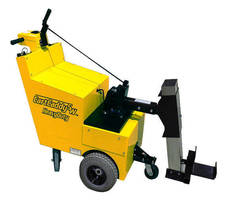 Powered by 36 V system supplied as standard with three 12 V batteries for 8 hr of continuous use, CartCaddy5WP HD can push, pull, or maneuver carts or equipment weighing up to 50,000 lb. Motorized unit, with weight centered over drive tires to increase traction, can pivot 180° without jackknifing cart and supports Quick Connect options that minimize changeover downtime. Fifth wheel arm electric lift kit can be raised/lowered to securely attach custom cart attachment to bottom of any cart.
---
Original Press Release:

Powered Movers Improve Load Capacity and Efficiency While Protecting Workers



Repetitive tasks and high-stress movements are both causes of costly workplace injuries. Powered Movers and Pushers are material handling solutions that can reduce these strains saving time, money and even lives.  One of many Powered Movers offered by DJ Products is the new CartCaddy5WP HD, this motorized cart mover is a heavy-duty, battery powered, proven design that can easily push, pull, or maneuver carts or equipment weighing up to 50,000 pounds. The CartCaddy5WP HD is the heavy-duty upgrade to the CartCaddy5WP.  New and improved design features of the CartCaddy5WP HD make it very easy-to-use and dependable:



More weight over the drive tires increases traction, allowing the powered cart mover to push and pull heavier loads.



The 5th wheel arm electric lift kit can be raised and lowered to securely attach a custom cart attachment to the bottom of any cart.



When securely attached, the Cart Caddy 5WP HD pivots a full 180 degrees without jackknifing the cart.



Changeover downtime is minimized with "Quick Connect" options for fast paced production environments.



To optimize in-service time, a 36 volt system is standard with three 12-volt batteries, for 8-hours of continuous use (typically 2 full shifts).



One of the most common applications of the CartCaddy5WP HD is moving carts with two straight casters and two front swivel casters. When attached to the swivel caster end, the CartCaddy5WP HD provides the pushing and pulling power needed for easy turning and smooth, safe maneuvering in most industrial or warehouse facilities.



Powered movers improve warehouse ergonomics and economics

Increasing liability, operating and maintenance costs are three reasons manufactures are changing their approach to bulk material handling. The clumsy and dangerous forklifts that used to be a warehouse staple are being replaced by more maneuverable, walk-behind, electric motorized cart movers that can be used by virtually anyone and do not require a license to operate.



Ongoing pressure to meet tight schedules, tempt equipment operators to risk their personal safety. To simplify operation and reduce this risk, DJ Product's full line of powered movers, carts and pullers are routinely customized for virtually any rolling industrial application. This is made possible by DJ Product's team of experienced application engineers that work with end-users to solve complex bulk material handling problems. When demanding applications required a more robust customized attachment, the DJ team engineered a thicker walled steel adaptor with more gussets for interfacing with heavier loads.



"The CartCaddy5WP HD attachment fit perfect. Within minutes of removing it from the crate the operators where moving our heavy steel carts. Almost every day one of the assemblers thank me for purchasing the machine.  Our fork trucks are now off the assembly floor making this a much safer environment. "  Sam Tucker, Honda



DJ Products, Inc. is a leading designer and manufacturer of battery powered systems for pushing, pulling and maneuvering a wide range of rolling loads. From aircraft to waste containers, transport vehicles and manufacturing automation there is a DJ Products mover for the job.



Product links: http://www.djproducts.com/product/motorized-cart-mover/

Video- https://www.youtube.com/watch?v=Jruigl0CR8Q#action=share



If you would like more information about this topic, please contact: Jeff Berg, 320-632-2651 jeff.berg@djproducts.com



DJProducts, Inc.

1009 4th St NW

Little Falls, MN 56345

Email: info@djproducts.com

Phone: 1-800-686-2651

More from Electrical Equipment & Systems