Power Wash System recovers and filters wastewater for reuse.
Press Release Summary: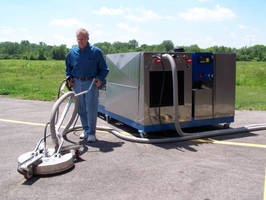 Clean Water Act compliant HydroRecyClean is automatic and integrated system to recover wastewater, filter it on site for reuse, and convert recovered contaminants into non-leachable materials that can be disposed in general landfills. Power wash system recovers up to 10 gpm through proprietary filtration process, cleaning recovered wastewater down to 1 micron. Machine is suited for cleaning hydrocarbons, heavy metals, and other hazmat chemicals.
---
Original Press Release:

ECO Cleaning Systems Advances Power Washing Industry Technology



ECO Cleaning Systems, manufacturer of environmentally responsible surface cleaning products in Port Clinton, Ohio, today announced the immediate availability of its newest technology, the HydroRecyClean power wash system. This new innovation is the only fully automatic and integrated system to recover wastewater, filter it on site for reuse, and convert recovered contaminants into non-leachable materials that can often be disposed of in general landfills.

"The HydroRecyClean system is the surface cleaning industry's first closed-loop water recovery and recycle system," said ECO Cleaning Systems Owner Sharlyn Trantham. "We're thrilled to be bringing to market this hassle-free solution to Clean Water Act compliance."

The heart of the HydroRecyClean system is its patented six step filtration process that reduces recovered wastewater contaminants, in most cases, to EPA acceptable disposal waste. The system is unique in that wastewater recovery and filtration occur simultaneously, while the system cleans surfaces.

The HyrdoRecyClean system recovers up to 10 gallons a minute through a proprietary filtration process, cleaning recovered wastewater down to one micron. Contaminants extracted from the water stream include hydrocarbons, oils, grease, cleaning chemicals, asbestos, and heavy metals such as those found in lead paint chips.

"The HydroRecyClean filtration process is the only surface cleaning system available today that offers operators the ability to safely dispose of most of their recovered contaminants without paying HAZMat disposal fees," said ECO Cleaning Systems Founder and President Brent Kaiser. "Additionally, the system is the only one to provide filtered water for reuse on site, easing water resource concerns, especially for operators in drought prone areas."

The Federal Clean Water Act prohibits contaminated surface cleaning wastewater from entering sewage and storm drains, making the HydroRecyClean system a perfect solution for a variety of industries engaged in the clean up of hydrocarbons, heavy metals and other hazmat chemicals. Such industries include airports, military bases, theme parks, big box retailers, marinas, and parking structures, to name a few.

Along with the HydroRecyClean system, ECO Cleaning Systems provides a family of wash, water recovery and water recycling systems to the commercial surface cleaning industry. ECS products are manufactured with American parts and produced in Port Clinton, Ohio.

About ECO Cleaning Systems:

ECO Cleaning Systems brings environmental solutions to the surface cleaning industry. ECS designs and manufactures a family of environmentally responsible surface cleaning systems. Its flagship technology, the HydroRecyClean system is the only closed-loop, integrated and automated system for the recovery and reuse of wastewater from commercial surface cleaning. ECS technology is ideal for maintaining EPA compliance with the Clean Water Act for a variety of commercial cleaning operations, including; airports, municipalities, theme parks, food service and parking garage franchises. For more information, please visit www.ecocleaningsys.com.

Company Name: ECO Cleaning Systems

Address 1: 629 N Hidden Harbor Dr

City: Port Clinton

State: OH

Zip: 43452

Country: USA

Phone: (419) 797-6624

URL: www.ecocleaningsys.com

More from Material Handling & Storage