Power Transformers support RS485/232 communications bus.
Press Release Summary: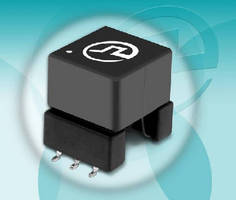 Designed on SMD platform with offset pins to maintain separation between primary and secondary circuits, PH9185NL Series Switch Mode Power Transformers provide reinforced insulation power supply for RS485/RS232 transceiver ICs. In accordance with IEC60950/EN61558, construction of devices has been certified by UL/TUV for reinforced insulation up to 400 V working voltage. Design utilizes Class F insulation system, and guarantees 8 mm creepage with 4,000 Vrms isolation voltage.
---
Original Press Release:

Pulse Electronics Introduces High Isolation Switch Mode Power Transformers



~ Provide reinforced insulation power supply for RS485/RS232 transceiver ICs ~

San Diego, Calif. - Pulse Electronics Corporation (NYSE: PULS), a leading provider of electronic components, introduces a new series of high isolation switch mode power transformers that provide a reinforced insulation power supply for RS485 and RS232 transceiver ICs. The transformers are designed on an SMD platform with offset pins to maintain a large separation between primary and secondary circuits. Applications include industrial control systems, building automation, smart grid, surveillance, and aeronautics. The Pulse Electronics PH9185NL transformers facilitate using a RS485/232 communications bus as a low cost alternative to Ethernet. They are compatible with the Maxim(TM) MAX253 power driver IC.

In accordance with IEC60950/EN61558, the construction of the PH9185NL series has been certified by UL/TUV for reinforced insulation up to a 400V working voltage. The design guarantees 8mm creepage and 4000Vrms isolation voltage to meet this requirement. The design also utilizes Pulse Electronics' Class F insulation system.

"In certain applications, such as noisy industrial environments or larger networks, peripheral devices require reinforced insulation from the network to protect them from possible interference on remote nodes. The PH9185NL series provides the needed insulation to the power driver and has a unique, compact construction that complies with the most stringent UL and TUV standards," said Gerard Healy, field applications engineer, Pulse Electronics Power Division.

Pulse Electronics' PH9185NL series consists of seven turns ratios to provide the required voltage to the IC from a range of low voltage levels, delivering up to 3W of power. The parts are RoHS compliant and packaged in trays or in tape and reel. Prices start at approximately $1.40 each for quantities of 10,000. High volume discounts are available. Samples can be requested for all parts in the series. Volume lead-time is 10-12 weeks standard. More information can be found on the PH9185NL datasheet at productfinder.pulseeng.com/productSearch/PH9185NL#. Additional information can be found on the Pulse Electronics website at www.pulseelectronics.com/PH9185NL.

About Pulse Electronics:

Pulse Electronics is the electronic components partner that helps customers build the next great product by providing the needed technical solutions. Pulse Electronics has a long operating history of innovation in magnetics, antennas, and connectors, as well as the ability to ramp quickly into high-quality, high-volume production. The Company serves the wireless and wireline communications, power management, military/aerospace and automotive industries. Pulse Electronics is a participating member of the IEEE, SFF, OIF, HDBaseT Alliance, CommNexus, and MoCA. Visit the Pulse Electronics website at www.pulseelectronics.com.

Copyright ©2012 Pulse Electronics Corporation. All rights reserved. All brand names and trademarks are properties of their respective holders.

Pulse Electronics

Gerard Healy

Field Applications Engineer, Power Division

Tel: +353 86 8274388

E-mail: ghealy@pulseelectronics.com

More from Communication Systems & Equipment