Power Transformers range from 1.1-100 VA.
Press Release Summary: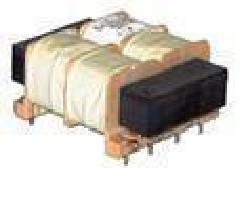 Available in 70 models with 24 Vac single primary, Low Voltage Transformers come in split bobbin and low profile PCB-mount configurations as well as chassis-mount models with quick connect terminals. RoHS-compliant units feature high-grade laminations for energy efficiency, center tapped outputs, and UL recognized insulation system. Applications include HVAC-R systems, medical instruments, industrial controls, signaling devices, lighting, and security devices.
---
Original Press Release:

PowerVolt Introduces: New Low Voltage Transformers. 1.1 to 100VA All with 24VAC Single Primary



PowerVolt is pleased to announce over seventy models of transformers for your low input voltage applications (24VAC input, 12VAC input available upon request). Wattage range from 1.1VA to 100VA. Transformers are available for Printed Circuit Board (split bobbin and low profile) and chassis mount.



Product Features:

• Various configurations to meet your requirements:

-- Split bobbin (Printed Circuit Board Mount)

-- Low profile (Printed Circuit Board Mount)

-- Quick connect terminals (Chassis Mount)

• Single primaries (50/60Hz)

• High grade laminations for increased energy efficiency.

• Center tapped outputs.

• Split bobbin design means no electrostatic shield is required.

• UL recognized insulation system (Class B; other temperature classes available upon request)

• Designed to meet UL/CSA

• 2500 Volt Hipot (low profile units have 1500 Volt Hipot)

• ROHS Compliant

• Custom configurations available



Full product selection guide and dimensions available on our web site (http://www.powervolt.com/xfmr.htm)



Options Available (please call):

• Thermal fuse

• Lead wires



Customization is available upon request. Feel free to call us for additional information, request a quote or discuss a custom design.



Applications Include:

• HVAC-R (Heating, Ventilating, Air Conditioning and Refrigeration)

• Low voltage instrumentation

• Medical instruments

• Industrial controls

• Signaling devices

• Lighting

• Security devices



Benefits of Using PowerVolt Group:

• Highly experienced staff of engineers (over 180 yrs of cumulative design and engineering experience).

• Standard (off-the-shelf) and custom products.

• Short lead times on production quantities (stock to two weeks)

• Three day lead time for quantities under 10 pcs.

• Rapid prototyping.

• Cost competitive quotes.

• Global supply chain provides risk-free and reliable product(s) design and delivery.

• Minority owned/US supplier in support of American Recovery Act.

• 2 year standard product warranty



PowerVolt Group has been producing quality custom and pre-designed transformers and linear DC power supplies since 1986.  Our Quality Policy is simple, and effective: 



A) Compliance to Requirements.

B) Continual Improvement.

C) Personal Pride in our Work. 



Feel free to take advantage of our standard off-the-shelf models or let us customize a transformer to your particular needs.  Either way, you've come to the right place.