Power System incorporates welder into boom lifts.
Press Release Summary: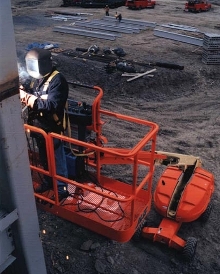 SkyWelder(TM) system features Miller(R) Model CST 250 welder, which has 5 to 250 amp range and can be used for stick and TIG welding applications. Power leads run through boom's power track to 7,500 W generator mounted in engine compartment which supplies power to welder and to 110 Vac platform receptacle. Welder is integrated into boom lift's platform beneath the control panel. Available on lifts with platform heights ranging from 40 to 135 ft.
---
Original Press Release:
Newest Miller(R) Welder Integrated Into JLG(R) Boom Lifts
McConnellsburg, PA, April 24, 2002 - The high performance SkyWelder(TM) system from JLG Industries, Inc. features the new Miller(R) Model CST 250 welder built into their most popular telescoping boom lifts for exceptional utility. Workers performing overhead welding are freed from having potentially dangerous leads hanging over the platform rails or the lost time associated with moving a freestanding welder every time the boom lift is repositioned. The Miller Model CST 250 has a 5A to 250A range and can be used for stick and TIG welding applications. The welder is integrated into the boom lift's platform beneath the control panel to conserve space. Power leads run through the boom's power track to a 7,500W generator mounted in the engine compartment which supplies power to the welder and to the 110V AC platform receptacle. JLG estimates that users can realize savings as much as $3,000 per month by using a boom lift equipped with the SkyWelder package. The advantages go beyond quantifiable dollars and include worker considerations, environmental enhancements, and relief of job site crowding. The savings reflect the productivity lost whenever work is stopped to move a ground-based welder, the rental costs of the welder and generator, plus the expense of consumables such as diesel fuel for the separate pieces of equipment. Other savings are realized through reduced delivery charges for multiple pieces of equipment, less tracking of equipment, and less damage to equipment that is self contained as opposed to free standing. The new SkyWelder system with the Miller Model CST 250 welder is available on JLG boom lifts with platform heights ranging from 40 ft. to 135 ft. It is one of the Workstation in the Sky(TM) accessory products available from JLG that increase the productivity of workers using JLG's aerial work platforms. JLG Industries, Inc. is the world's leading producer of mobile aerial work platforms and a leading producer of telehandlers and telescopic hydraulic excavators marketed under the JLG(R) and Gradall(R) trademarks. Sales are made principally to rental companies and distributors that rent and sell the Company's products to a diverse customer base, which include users in the industrial, commercial, institutional and construction markets. JLG's manufacturing facilities are located in the United States and Belgium, with sales and service locations on six continents. Miller® is a registered trademark of Miller Electric. For additional information, contact: Ms. Maye Houck Marketing Communications Manager JLG Industries, Inc. 13224 Fountainhead Plaza Hagerstown, MD 21742 TEL: (240) 420-8721 FAX: (240) 420-8732 E-mail: [email protected]