Power Switch is rated for 2,200 V breakdown voltage.
Press Release Summary: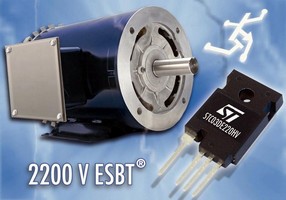 With 150 kHz maximum switching frequency and 3 A maximum rated current, STC03DE220HV ESBT (emitter-switched bipolar transistor) allows designers to use single-switch flyback topology in universal-input converters operating from 90-690 Vac. Unit can achieve equivalent on-resistance of 0.33 W from collector to source. Suited for SMPS applications, it enables designers to build quasi-resonant converters up to 250 W, using common hardware platform with suitable controller such as L6565.
---
Original Press Release:

STMicroelectronics Extends ESBT® Voltage Rating for Low-Loss SMPS Design in Three-Phase Applications



First member of new 2200V-rated power switch family saves energy, size and cost

Geneva, May 21, 2008 - STMicroelectronics (NYSE: STM), a world leader in power applications, has introduced the STC03DE220HV ESBT (Emitter-Switched Bipolar Transistor) power switch, which enables engineers to improve efficiency, cost, component count and size in auxiliary switched-mode power supplies for single- and three-phase applications.

The STC03DE220HV is the first in a new family of ESBTs from ST rated for 2200V breakdown voltage, allowing designers to use a single-switch flyback topology in universal-input converters operating from 90V AC to 690V AC. ST's full range of ESBTs now allows designers to build quasi-resonant converters up to 250W, using a common hardware platform with a suitable controller such as the L6565.

Operating efficiently at 150kHz maximum switching frequency and 3A maximum rated current, the STC03DE220HV can be used in a wide range of auxiliary SMPS applications including industrial utility metering, inverter drives for induction motors, welding equipment and uninterruptible power supplies (UPS). Further advantages include an enhanced TO247-4L package, providing 8.9mm of creepage distance to exceed IEC664-1 specifications at the maximum working voltage of 2200V.

Using ESBT technology, the STC03DE220HV betters standard bipolar transistors as well as high-voltage MOSFETs by combining low on-state losses with the traditional MOSFET advantages of high switching frequency and easy gate-driver design. The STC03DE220HV achieves an equivalent on-resistance of 0.33 Ohm, from the collector to source, while also operating at up to 150kHz to enable small filter components. In addition the total die size is smaller than for a high-voltage MOSFET of similar rating*, delivering an inherent cost saving. The ESBT's square Safe Operating Area (SOA) also simplifies design and ensures rugged performance throughout a wide range of conditions.

The STC03DE220HV is in full production, and available at $3.50 in quantities over 1000 pieces.

Further information is available at www.st.com/esbt

About STMicroelectronics
STMicroelectronics is a global leader in developing and delivering semiconductor solutions across the spectrum of microelectronics applications. An unrivalled combination of silicon and system expertise, manufacturing strength, Intellectual Property (IP) portfolio and strategic partners positions the Company at the forefront of System-on-Chip (SoC) technology and its products play a key role in enabling today's convergence markets. The Company's shares are traded on the New York Stock Exchange, on Euronext Paris and on the Milan Stock Exchange. In 2007, the Company's net revenues were $10 billion. Further information on ST can be found at www.st.com.

* Theoretical "high-voltage MOSFET of similar rating", as the current typical maximum MOSFET rating is 1500V

STMicroelectronics, Inc.
Lexington Corporate Center
10 Maguire Road
Bldg. 1, 3rd Floor
Lexington, MA 02421
(781) 861 2650
www.st.com

http://st.com/stonline/stappl/feedback/app/page/questionToSales

More from Mechanical Power Transmission