Power Supply suits welding applications to 500 W.
Press Release Summary: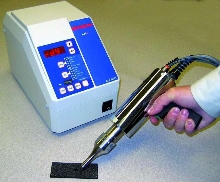 Connected directly to 2000 Series hand-held welding devices, 2000LP Ultrasonic System is configurable to run in automation and features digital LED read out and process controls. Visual, audible, and logic alarms provide continuous monitoring, while closed loop amplitude control ensures constant power and consistency in welding cycle. Available in 20, 30, and 40 kHz frequencies, product offers 5 levels of power supply protection and LPt or LPe control level.
---
Original Press Release:
Branson Introduces 2000LP Low Power Ultrasonic Systems
The 2000LP family of low power ultrasonic systems are Branson's latest offering for applications with power requirements of 500 Watts or less. Application use is wide spread from spot welding credit card sheets to cutting of composite materials for the aerospace industry, as well as automotive interior trim and shoddy pad installation. The 2000LP power supply connects directly to Branson's new 2000 Series hand-held welding devices. These hand-held welders are compact, lightweight devices used to spot weld or stake intricate parts and those with hard-to-reach joint areas. The 2000LP is also configurable to run in automation, when used in light duty applications with appropriate ultrasonic stacks. The 2000LP units, with a digital LED read out and digital process controls including parameter entry, amplitude control and display of operations, are easy to set up and operate. Visual, audible and logic alarms provide continuous monitoring to identify errors that may arise during operation. Utilizing Branson's patented closed loop amplitude control to provide maximum process control, amplitude variations are automatically taken into account and corrected to ensure constant power as well as consistency and reliability in each welding cycle. In addition, the 2000LP unit provides full-automatic tuning and stores horn frequency at the end of each weld. The parameters of the last cycle used are also stored, even if the unit is turned off or a power disturbance occurs. To ensure accuracy and repeatability in the welding process, the 2000LP units have five levels of power supply protection, including phasing, over voltage, over current, over temperature and power. The 2000LP units are available at two control levels, LPt and LPe. The LPt model provides continuous and time welding modes, and the LPe model provides continuous, time and energy welding modes. Three frequencies are available: 20 kHz at 150 and 500 Watts, 30 kHz at 500 Watts and 40 kHz at 150 and 500 Watts. A ground detect option is available but must be factory installed. Headquartered in Danbury, Connecticut, Branson Ultrasonics Corporation is the leading worldwide manufacturer of plastics joining equipment including ultrasonic, linear and orbital vibration welders, hot plate welders, laser IRAM welders, and spin welders for assembling thermoplastics. Branson also manufactures ultrasonic equipment for sealing and/or slitting thermoplastic textiles and films, metal welding, processing biological and chemical solutions, and precision commercial and industrial cleaning. Branson was founded in 1946 and is a subsidiary of Emerson Electric Co., St. Louis, MO.