Power-Supply Accessory Kit is packaged in blister-pack case.
Press Release Summary: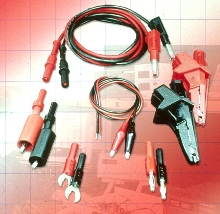 Model TLPS provides fully insulated alligator clips, standard alligator clips, and spade lug adapters. Retractile, sheathed banana plug connects to power supply, and fixed, sheathed banana plug protect users. Kit includes ready-made, silicone-jacketed, test-lead set for power supplies with remote sensing capabilities. Items meet IEC61010-032 international safety specifications to 1,000 V.
---
Original Press Release:
B + K Precision(R) Introduces Convenient, Economical Power Supply Accessory Kit

Yorba Linda, Calif., March 29, 2002 -B&K Precision Corporation, one of the industry's leading suppliers of test and measurement products, today announced the introduction of Model TLPS Power Supply Accessory Kit. The new kit, priced at $39.95, combines safety and functionality with convenience and economy. The Model TLPS Power Supply Accessory Kit provides an initial selection of accessories commonly used with most popular power supplies, eliminating the need to "shop around" for needed accessories when getting started. The Model TLPS is ideal for use with power supplies in Educational, Service and Maintenance, and Manufacturing applications.

"We assembled this kit with the user's safety in mind," said Bill Hansen, Director of Engineering for B&K Precision Corporation. "All materials meet or exceed the latest international safety standards. Every component was carefully selected for quality, reliability and longevity. The TLPS Power Supply Accessory Kit, priced at a low $39.95, is the ideal companion to our complete line of newly designed, cost-effective, state-of-the-art power supplies."

The new kit incorporates highly flexible silicone jacketed test leads that utilize a retractile sheathed banana plug to connect to the power supply and a fixed sheath banana plug to protect the user. A majority of the items contained in the new kit meet IEC61010-032 international safety specifications to 1,000 volts.

The TLPS Power Supply Accessory Kit provides a complete selection of accessories including large, fully-insulated alligator clips, standard alligator clips, spade lug and banana plug adapters (to make connections easier) and a ready-made lead set for power supplies with remote sensing capabilities. The Kit contains the following:




- 4mm Straight to Retractile Stacking


  Silicone Leads, 1.2m (48")           1B + 1R, *33Vrms/70VDC 25A



- Fully Insulated Alligator Clips      1B + 1R, 1000VCATIII 20A



- Standard Alligator Clips             1B + 1R, 300VCATI 3A



- #6/4 Spade Lug Adapters              1B + 1R, *33Vrms/70VDC 36A



- 4mm Banana Plug Adapters             1B + 1R, *33Vrms/70VDC 36A



              * Higher voltage with a trained user




Enclosed in a convenient, easy to use "Blister Pack" package, the Model TLPS Power Supply Accessory Kit is priced at $39.95 and is available for immediate delivery.

For over 50 years, B&K Precision Corporation has developed a reputation for excellence in the design and manufacture of high quality, reliable and cost-effective test and measurement products. Recognized for their price-performance B&K Precision Corporation products are available worldwide through a global network of authorized distributors.

For additional information or the name and location of an authorized distributor near you, contact B&K Precision Corporation, 22820 Savi Ranch Parkway, Yorba Linda, California, 92887, Tel: (714) 237-9220, Fax: (714) 237-9214 or visit our Web site at www.bkprecision.com
More from Portable Tools