Power Supplies suit harsh military applications.
Press Release Summary: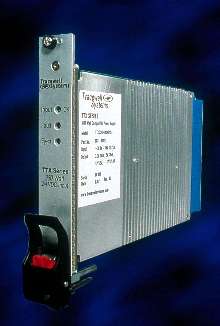 TTX Series single-slot power supplies are 24 V DC input units that include 350 W, 3U model and 700 W, 6U model. They support input range of 18-36 V and provide outputs of 5, 3.3, and ±12 V. Isolated, fixed 500 kHz switching frequency utilizes dual soft switching bridge architecture with integrated planar magnetics. I²C interface provides actual output voltages and current measurements. OR'ring diodes are replaced with MOSFETS, reducing heat dissipation.
---
Original Press Release:

24VDC Input Single-Slot Power Supply from Tracewell Achieves Unprecedented Power for its Size


COLUMBUS, OH, December 10, 2002-Tracewell Systems, Inc., a world-class electronic packaging manufacturer, has introduced two new 24-volt DC input versions of its TTX Series of power supplies for use in rugged applications including mobile systems. Included are a new 350-watt 3U 1-slot and a 1-slot 700-watt 6U 1-slot model.

This rugged 24-volt unit has been designed primarily for military applications where dependable performance under harsh conditions is required. The TTX Power Supplies provide high-density, high-efficiency and reliability all within 1-slot (4HP). The 24-volt TTX supports an input range of 18-36V and provides the following standard ouputs:

3U/ 350W: 5V @ 35A, 3.3V @ 45A, 12V @ 5A and -12V @ 1.5A
6U/ 700W: 5V @ 60A, 3.3V @ 90A, 12V @ 7.5A and -12V @ 1.5A

The new patent pending topology is an isolated, fixed 500 kHz switching frequency that utilizes dual soft switching bridge architecture with integrated planar magnetics. Voltage percentages and load balancing can also be verified. The I²C interface adds to the controllability by providing actual output voltages and current measurements.

The TTX Series does not use DC-to-DC converters, allowing for competitive pricing and flexibility. High reliability is achieved with low part count allowing the supplies to operate at low stress. OR'ring diodes are replaced with MOSFETS, reducing heat dissipation. MOSFETS and planar magnetics have direct thermal contact with the heatsink, allowing for lower operating temperatures. The side-mounted heat sink improves thermal transfer and lowers airflow restriction, further improving reliability in harsh environmental conditions.

Operational Features
o Meets PICMG 2.11 R 1.0 Power interface specification
o Input voltage range, (18 - 36VDC)
o Digital method for load sharing of 5, 3.3 and 12V outputs within 10%, 8 supplies
o Hot-swappable, MOSFETS used in place of OR'ng diodes
o Dual soft-switching bridge architecture with integrated Planar Magnetics
o 500kHz switching
o Full power operation up to 60° C (no derating; 400 LFM)

Mechanical Features
o Single-slot (4HP) width - 3U/6U
o Industry standard pin out configuration 47 pin connector
o Industry standard footprints
o Low weight reduces shock and vibration effects

Conclusion
The market for cPCI power is undergoing dramatic changes. As industry trends force power designers to use smaller, more efficient solutions, Tracewell has responded with the TTX Series of high efficiency power supplies. Tracewell power supplies provide superior reliability while reducing space, height, weight, cost of use, and application effort. Tracewell is supporting this technology with a world-class organization that is focused on the highest level of customer service. In addition, we continue our development of improved technology and substantially better price-performance standards.

Price and Availability.
Pricing for Tracewell's TTX 3U, 350-watt 24VDC input power supply is $490.00 at 100 pieces and are available to ship beginning in January 2003, four to six weeks ARO.

As with all Tracewell products, the TTX can be adapted to support customer specific requirements on qualified programs. Consult the factory for more details.

For more information. To receive more information on Tracewell's TTX Power Supplies, or any Tracewell Systems product, please visit Tracewell on the web at www.tracewellsystems.com or contact the Sales Department at:

567 Enterprise Drive
Westerville, OH 43081
Toll Free: 800-848-4525
Phone: 614-846-6175
FAX: 614-846-4450
Web: www.tracewellsystems.com
E-Mail: sales@tracewell.com

About Tracewell Systems. For more than 25 years, Tracewell Systems, Inc. has provided electronic packaging and integration solutions that enhance the performance of a wide range of VME, VXI, PXI, cPCI, and proprietary bus systems. Tracewell Systems provides levels 0 through 5 of system integration, and specializes in levels 3, 4, and 5. As a vertically integrated manufacturer with a full range of engineering disciplines, the company can supply complete level 5 system integration, ranging from concept design, software and manufacturing services, to system engineering, PC board assembly, metal fabrication, wiring and functional test. Tracewell offers complete design and manufacture of system packaging, backplanes, power and monitoring systems, supplying everything from off-the-shelf standard products to fully customized and integrated rack systems. Tracewell works as a strategic partner with its customers, adding value through development of system solutions for telecommunications, test and measurement, medical, military and other demanding applications.

More from Sensors, Monitors & Transducers