Power Supplies suit DeviceNet(TM) applications.
Press Release Summary: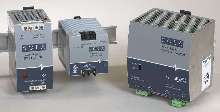 Rated 24 Vdc, DIN-rail units provide short-circuit, over-voltage, and over-temperature protection. Front panels offer multiple connection terminations. Model SDN4-24-100 meets UL1950 limited power source requirements; Model SDN8-24-100REDA offers built-in isolation diode, DC Okay Signal, and pluggable, screw-terminal connections; and Model SDP4-24-100 provides 4.2 A current. Products meet ODVA requirements for process control, industrial control, and building automation.
---
Original Press Release:

Sola/Hevi-Duty Introduces New Power Supplies for DeviceNet Applications


ANAHEIM, CA, November 20, 2002 (Automation Fair 2002) ­ Sola/Hevi-Duty, a member of the Open DeviceNet Venders Association (ODVA), has introduced three 24VDC power supplies designed specifically to meet ODVA requirements for either thick or thin cable DeviceNet applications in process control, industrial control or building automation.

The new models are the SDN4-24-100, SDN8-24-100REDA and SDP4-24-100.

DeviceNet(TM) is a low-cost communications link to connect industrial devices to a network and eliminate expensive hardwiring. The direct connectivity provides improved communication between devices as well as important device-level diagnostics not easily accessible or available through hardwired I/O interfaces.

All three Sola/Hevi-Duty DeviceNet(TM) power supplies feature industrial grade design including indefinite short-circuit, overvoltage and overtemperature protection, as well as a rugged DIN connector. Users will appreciate the narrow width on the rail in space-critical installations, plus the large front panels with multiple connection terminations result in improved access and easier mounting. Other shared benefits include high-efficiency to ensure cool operating temperatures and minimal heat losses. In addition, all are backed by a three-year warranty and were engineered with a minimum of electrolytic capacitors, a leading cause of degradation of power supply performance over time.

Unique features of power supplies are:

... Sola/Hevi-Duty SDN4-24-100 meets UL1950 limited power source requirements, thereby providing superior current limiting, even under abnormal conditions. Advance electronic design and rugged metal housing make this supply extremely fault tolerant.

... Sola/Hevi-Duty SDN8-24-100REDA is designed for installations that utilize the Full 8A capability of the Thick Cable systems. It offers a built-in isolation diode to prevent backfeeding of power when using multiple supplies, a DC Okay Signal, and pluggable screw terminal connections for easier wiring and replacement.

... Sola/Hevi-Duty SDP4-24-100 boasts the highest current possible while still meeting the NEC Class 2 rating. The 4.2 amp unit offers an extremely small physical package for installation on a DIN rail.

For more information, call Sola/Hevi-Duty toll-free at 1-800-377-4384. On the web, www.solaheviduty.com.

Sola/Hevi-Duty has been a leader of industrial power quality solutions including power supplies, transformers, and power quality equipment. It is a member of the EGS Electrical Group, and is headquartered in Skokie, Illinois.

CONTACT:
Sola/Hevi-Duty
847-763-6620

Dan O'Connell
O'Connell Communications, Inc.
708-482-0212
oconnellcom@earthlink.net

More from Electrical Equipment & Systems