Power Supplies feature linear regulation technology.
Press Release Summary: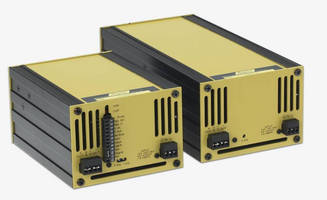 Infinity power supplies have line and load regulation of just 2 mV, and ripple is less than 0.25 mVrms, 0.75 mVp-p with low common mode noise. Rugged units come with outputs to 150 V and 150 W, with both 'slot' output voltage ranges and wide-adjust models that are adjustable from 0 to max rated output voltage, and can provide either constant voltage or current. Functional options include output programming, switching and monitoring, undervoltage alarms, and auxiliary outputs.
---
Original Press Release:

Linear Power Supplies Offer Infinite Options



Easton, PA - July 27, 2010- Acopian's new line of Infinity power supplies provide the unique advantages of linear regulation technology (tighter output voltage regulation, and lower output ripple and noise than any other type), and utilize state-of-the-art components and circuitry to also achieve improved efficiency and reduced size. Line and load regulation for many models is just 2 mV, and ripple is less than 0.25 mVrms, 0.75 mVp-p with virtually no common mode noise. Standard models are available with outputs to 150 volts and 150 watts, with both 'slot' output voltage ranges and wide-adjust models that are adjustable from 0 to the maximum rated output voltage, and can provide either a constant voltage or constant current. They are ruggedly built in extruded aluminum casework and carry a five year warranty.

The name 'Infinity' was inspired due to their unusually wide choice of options, which enable them to provide the exact mix of features required for a specific application, but without the delays and additional costs inherent to custom designs. Functional options include a choice of input voltage ranges; various forms of overvoltage protection, output programming, switching and monitoring; undervoltage alarms; and auxiliary outputs. Physical variations include an IEC input connector, input switch, knob-type output controls and status indicators. Other options include thermostatic control of the cooling fan, and built-in diodes for battery charging and applications requiring two or more power supplies to have their outputs connected in parallel for redundancy.

Specs can be found at: http://www.acopian.com/infinity
Shipped within 6 days