Power Supplies are geared for arc welding.
Press Release Summary: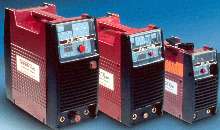 Inverter arc welding power supplies for portable STICK, TIG, and MULTI-PROCESS construction and maintenance welding duties include nine models that range in weight from 19-63 lb. Units include Voltage Reduction Device to reduce OCV when power supply is not in use. Push button control panel with digital meter is weather protected for construction and maintenance environments while cases are stackable.
---
Original Press Release:

Thermal Arc® Launches New Portable Inverter Family for Construction & Maintenance


St. Louis - December 16, 2002 - Thermal Arc® is fielding a new team of inverter arc welding power supplies geared especially for portable STICK (SMAW), TIG (GTAW) and MULTI-PROCESS construction and maintenance welding duties.

The nine members of Thermal Arc's portable inverters for construction and maintenance applications range in weight from approximately 19 lbs. to 63 lbs. All units include a Voltage Reduction Device (VRD) that reduces OCV when the power supply is not in use, eliminating the chance of accidental electric shock.

A new, simplified, push button control panel with digital meter is standard on all models. The control panel is weather protected to stand up to on-site rigors associated with construction and maintenance environments. Machine setup is simple with easy to follow graphics that lead operators through the controls to make fast, accurate selections. The all new case design allows units to be stacked for convenience and space saving.

The most exciting new machine in the range is the PRO-WAVE 1 85TSW (41.8 lbs), a full square wave AC/DC machine with upslope/downslope control and pulse as standard features. The l85TSW is fully featured for aluminum welding with variable frequency, wave balance control and lift or HF assisted starting. The PROWAVE 300TSW (69.3lbs) is the 300-amp version in the AC/DC range and has the same control panel and features.

The STICK units in the range include the P-WEE 160S (18.95 lbs.), PRO-LITE 250S (39.68 lbs.), and PRO-PLUS 400S (50.7 lbs). TIG units include the P-WEE 160TS (19.84 Ibs), PRO-LITE 250TS
(41.88 lbs.) and PRO-PLUS 400TS (52.9 LBS.). The PRO-PLUS 400MST (59.52 lbs.) is the MULTI-PROCESS machine in the family. Both the PRO-PLUS 400TS and 400MST are designed for efficiency and flexibility with standard programmable controls that can memorize up to five welding programs.

For complete details on welding outputs visit the Thermal Arc website (www.thermalarc.com) or contact your local distributor.

All models are backed with Thermal Arc's three-year warranty.

Thermal Arc is a division of Thermadyne' Holdings, a global welding and cutting products company with headquarters in St. Louis, Mo. The company is comprised of long-standing, market
leading companies representing many of the most respected brand names in the welding and metal fabricating industry. For more information, visit the Thermal Arc web site at www.thermalarc.com, or phone Robert Wiseman at 937-440-0203.

More from Thermal & Heating Equipment