Power Source is designed for OMNIA® series analyzers.
Press Release Summary: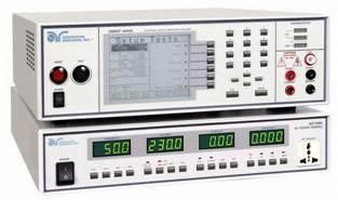 Designed to work with line leakage and functional run testing capabilities of OMNIA series of electrical safety compliance analyzers, AC1000 power source is used in applications requiring isolation transformer adjustable to 110% of line voltages. It features 1 kVA, programmable software current limits, programmable over-current fold back to maintain constant output current with varying load, 3-way power on condition, and 3 programmable memory locations.
---
Original Press Release:

New Companion Power Source to the OMNIA® Series of Electrical Safety Compliance Analyzers



Lake Forest, Illinois, March, 2006 - Announced today by Associated Research, Inc., is the addition of the AC1000, a companion power source to the OMNIA® series of electrical safety compliance analyzers. This new power source is designed to work with the Line Leakage and Functional Run testing capabilities of the OMNIA series. The AC1000 can be used in Line Leakage testing applications that require an isolation transformer that is adjustable to 110% of line voltages. It can also be used to simulate various utility power configurations for product applications testing.

The AC1000 is a 1 kVA power source that works seamlessly with the OMNIA series providing a convenient testing system that is easy to set up and control. OMNIA and the AC1000 operate in a master/slave configuration by means of a PLC interface, which allows the OMNIA to control various voltage and frequency setups stored in the AC1000's memory system.

The AC1000 features programmable software current limits to keep the output current from exceeding safe levels, a programmable over-current fold back feature to maintain constant output current with a varying load, a 3-way power on condition that varies the way the AC1000 is powered on, and programmable hi/lo voltage and frequency limits. Additionally, the AC1000 features three programmable memory locations, upgradeable to seven, that are capable of storing current limits, as well as voltage and frequency settings, all of which can be toggled while the output is enabled. The PLC inputs and outputs allow the operator to read test processing and failure conditions, control the output relay and toggle memory locations 1, 2 and 3 remotely. You can learn more about the AC1000 by visiting their website at www.asresearch.com/products/auto/ac1000/index.shtml.

Founded in 1936, Associated Research, Inc., is a worldwide leader in electrical safety compliance testing instruments. Contact the company at:

13860 W. Laurel Drive
Lake Forest, IL 60045
Toll Free: 1-800-858-8378
Phone: 1-847-367-4077
Fax: 1-847-367-4080
Email: info@asresearch.com

Web: www.asresearch.com

More from Electronic Components & Devices