Power/Snubber Resistors suit power electronics circuits.
Press Release Summary: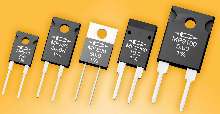 Non-inductive, heat sink mountable designs, suitable for high power density designs, allows TO-Style resistors to operate up to 500 MHz in 25 to 100 ohm range. Power ratings range from 25 W (TO-126) to 100 W (TO-247), at +25°C case temperature. Resistance range varies from 0.005 ohm to 100 K ohm, and tolerances are rated at 1% standard (most resistances) with 5% tolerance also available.
---
Original Press Release:

Caddock's Wide Range of TO-Style Power and Snubber Resistors


15 Watts to 100 Watts, TO-126, TO-220, and TO-247 Style Packages
Non-Inductive, Heat Sink Mountable for High Power Density Designs

Caddock Electronics offers a wide range of TO-Style Power Film Resistors that are ideal for use in Power Electronics Circuits as Snubbers, Current Limiting, Loads, Current Sensing, and other Power Resistor Applications. The compact heat sink mountable designs are ideal for high power density designs. The Non-Inductive design allows these TO-Style resistors to operate up to 500 MHz in the 25 to 100 ohm range. Values as low as 0.005 ohms are also ideal for Current Sensing Applications


Caddock MP Series, TO-Style Power Film Resistors

o Power Ratings:    TO-126: up to 25 W at +25°C Case Temperature

                    TO-220: up to 50 W at +25°C Case Temperature

                    TO-220 Clip Mount: up to 60 W at +25°C Case Temperature

                    TO-247: up to 100 W at +25°C Case Temperature

o Resistance Range: 0.005 ohm to 100 K ohm

o Tolerances:       1% Standard in most resistances, 5% tolerance available

o Availability:     Lead Time 6 weeks ARO, Many Standard Values available from Stock


Reader (Inquiry) Contact: Caddock Electronics, Inc.; Applications Engineering Department
17271 N. Umpqua Hwy, Roseburg Oregon 97470, USA
Tel.: 541-496-0700; Fax: 541-496-0408; Email: caddock@caddock.com; Web Site: www.caddock.com

More from Software