Power Server simplifies power monitoring.
Press Release Summary: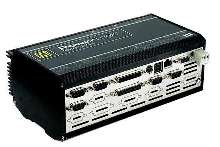 POWERLOGIC® Power Server 750 self-contained web server can be used as stand-alone system for local power monitoring or for enterprise-wide applications. It connects up to 64 compatible devices. Once installed, users can access data over web through preconfigured web pages. Using intelligent data-publishing feature, unit can transfer collected information to enterprise system server, making it possible to analyze and monitor large number of sites.
---
Original Press Release:

Powerlogic® Power Server 750 Simplifies Monitoring And Provides Easy Set-Up and Configuration


PALATINE, Ill. - Dec. 31, 2002 - The new POWERLOGIC® Power Server 750 from SQUARE D/Schneider Electric is a self-contained web server that can be used as a stand-alone system for local power monitoring or for enterprise-wide applications at industrial and commercial facilities. This new power management web server makes the collection of information easier than ever. It requires no software installation, drastically reduces - or in most cases eliminates - PC management, and provides power monitoring "in a box". There is no equivalent product in the industry.

"Customers can plug the Power Server 750 in and get power distribution information almost instantly", said Gregg Morasca, POWERLOGIC® national sales and marketing manager. "It installs quickly and connects up to 64 POWERLOGIC® compatible devices. Once installed, users can access data over the web through preconfigured web pages that feature tables, bar charts, meters, and graphical diagrams, alarms, historical trends, reports and waveforms."

All of this information is accessible through an easy to navigate browser-based interface. By mounting the optional touch screen display on power equipment, the POWERLOGIC® Power Server 750 provides local viewing of equipment status, drawings and manuals, maintenance documents, alarms and power quality information.

Using a unique intelligent data-publishing feature, the Power Server 750 can automatically transfer collected information to an enterprise system server, making it possible to analyze and monitor a large number of sites for strategic load aggregation and power quality decision-making.

The central site can be POWERLOGIC® System Manager on a company's Intranet, or can be hosted by SQUARE D/Schneider Electric through an Online Enterprise System Web Service.

For more information about the complete line of SQUARE D power management products, call 1-800-392-8781, visit www.powerlogic.com or send an e-mail message to help@SquareDinfo.com.

Located in LaVergne, Tenn., Square D/Schneider Electric's Power Management Organization develops, designs and markets power monitoring and control systems and analytical services. It offers a full range of products and services, including power monitoring hardware and software, lighting control hardware and software and a variety of engineering services.

Headquartered in Palatine, Ill., the North American Division of Schneider Electric had sales of approximately $2.7 billion in 2001. The North American Division is one of four geographic divisions of Schneider Electric, headquartered in Paris, France, and markets the brands of Schneider Electric in the United States, Canada and Mexico. In the United States, it is best known by its flagship SQUARE D brand, a market-leading brand of electrical distribution, industrial control and automation products, systems and services. Schneider Electric is a global electrical industry leader with 2001 sales of approximately $8.7 billion.

Please send all reader inquiries to:
Banta Packaging & Fulfillment
4818 West Converters Drive
Appleton, WI 54913
Attention: Joan Kilgas
800-392-8781
E-mail: SquareDlim@banta.com

More from Controls & Controllers