Power Relay suits HVAC and UPS systems.
Press Release Summary: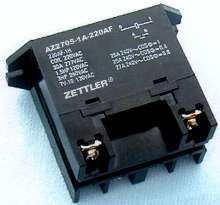 Model AZ2705, 30 A power relay handles up to 8310 VA in addition to 4 kV dielectric. Mounting options include E Bracket and Panel Mount. Connections for coil and load are made using standard screw terminals. Suitable applications range from HVAC and UPS systems to microwave ovens.
---
Original Press Release:
AZ2705 Series 30 Amp Power Relay

Aliso Viejo, California - The AZ2705 relay is American Zettler's latest offering in the power relay market. The capacity to handle up to 8310VA, plus 4kV dielectric, makes this relay the one to choose for a wide variety of applications from HVAC to UPS Systems to microwave ovens. Mounting options include E Bracket and Panel Mount. Connections for coil and load are made using standard screw terminals.

Pricing starts at $4.91 at 1,000 pieces.

For application and product information contact:

Fred Harmon

Vice President, Sales & Marketing

American Zettler, Inc.

75 Columbia

Aliso Viejo, CA 92656

Tel: (949) 831-5000

Fax: (949) 831-8642

Web Site: www.azettler.com

E-Mail: sales@azettler.com